Opinion: Is Joseph Yobo Speaking For Himself Or Nigerian Youths?
Featured Contributors/Columnists, Latest News, Nigeria 2015 Election
Sunday, January 11th, 2015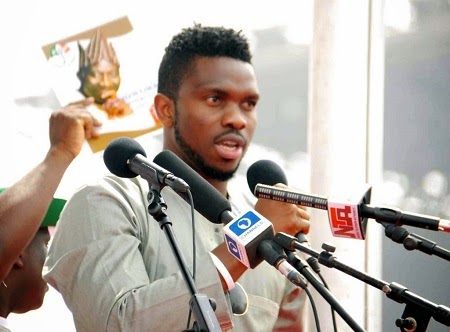 Oyewale Oyelola – Former Super Eagles Captain, Joseph Yobo last Thursday during the inauguration of President Goodluck Jonathan Re-election campaign in Lagos declared that Nigerian youth would vote massively for the President in February 14, 2015 Presidential Election.
Yobo described President Jonathan as youth friendly leader, adding that the Bayelsa politician has created conducive environment for young entrepreneur to succeed.
His words: "I am speaking on behalf of youth of this country. President Goodluck Jonathan has done very well. He has provided enabling environment for Nigerian youth to become business owners. President has empowered over 2000 young entrepreneur through YOUWIN programme.
"If not for president Jonathan, we wouldn't' have won the African Nations Cup after 20 years. He supported us throughout the competition in 2013"
The Self acclaimed youth representative, Mr Yobo in less than five minutes speech open his jotter to list other achievements of the president.
However, the footballer's comment has been trailed with condemnation in social media. Many youth questioned Yobo on where he got the authority to speak on behalf of over 50 million Nigerian youth.
How can Yobo blatantly lied about the pathetic situation of the Nigerian youths, majority of whom especially graduates are unemployed or doing ridiculous jobs like driving public transport, serving as attendant in filling station, riding okada and others to earn their daily living.
I'm sure Yobo hardly spend one month straight in Nigeria, so it will be difficult for him to understand the feeling of Nigerian youths. After all, he is a footballer earning millions of dollars abroad. He can never understand the feeling of Masters Degree holder earning N30,000 as salary on the street of Lagos.
The 34-year-old Norwich city player however failed to mention how undue interference of the President in NFF vs Keshi saga cost Nigeria the 2015 AFCON qualification. May be the ex-captain of national team is planning to get a role in Jonathan's administration as findings revealed that he might retire from international football soon.
Joseph Yobo's speech reminded us of Dbanj interview with President Goodluck Jonathan in build up to 2011 general elections, when the hip pop artiste who claimed to represent the youth was nodding throughout the interview instead of asking questions on agenda of president for Nigerian youths.
Please follow and like us:
Short URL: http://www.africanexaminer.com/?p=21494