Aba Council Boss Scores Gov. Orji's Administration High On Sanitation
Abia, Featured, Ignatius Okpara, Latest News, News, Uncategorized
Tuesday, October 22nd, 2013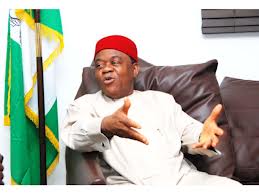 Ignatius Okpara, Enugu
The Transition Committee Chairman of Aba North local government of Abia state, Barr. Chizuru Kanu has applauded the state Governor, Theodore Orji for his support to the State Environment Protection Agency (ASEPA).
Speaking with newsmen Tuesday in Aba, Kanu, noted that the governor's vision in creating the Aba zone of the agency has changed the face of the commercial city.
He said, "We in Aba North local government are appreciative of the support of the governor for ASEPA. His vision of creating the Aba zone of ASEPA has paid off. Aba now wears a new look, you can see there is tremendous improvement in the area of refuse disposal.
"You can also see that Aba is no longer what it used to be. Before now, the disposal of refuse in Aba used to give us sleepless nights, but Gov. Orji in his  wisdom, saw the need to decentralize  ASEPA, created the Aba zone of the agency and appointed a deputy general manager in charge of it.
"Without fear of contradiction, the man in charge of the Aba Zone of ASEPA, Dr. Okezie Ikpeazu has actually lived up to expectation. The situation has proven that if the residents play their part well, everything will fall in line. You can see that there is orderliness in the refusal disposal.
" Even in places where we have the designated refuse disposal points, the bins are always covered with tarpaulin. Aba has regained its aesthetic value and we commend Gov. Orji for his vision" the council boss said
Short URL: https://www.africanexaminer.com/?p=3385