Adamawa PDP Rejects Ribadu As Guber Candidate, Threatens To Boycott National Convention
Featured, Latest News, Nigeria 2015 Election, Uncategorized
Wednesday, December 10th, 2014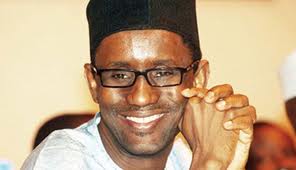 Agabus Pwanagba, Jos – Controversies have continued to trail the emergence of the former Chairman of the Economic and Financial Crimes Commission, (EFCC), Nuhu Ribadu, as Adamawa's ruling PDP gubernatorial candidate as the party's State chapter has announced its decision to boycott the National Convention which is underway in Abuja.
The aggrieved members of the State's PDP governorship aspirants, made their decision known at a press briefing at the party secretariat in Yola, the Adamawa State's capital.
The aspirants condemned the primary and accused the National Working Committee (NWC) of the party as the brain behind the internal squabbles rocking the chapter.
"We therefore resolve to abstain from the National convention of the party scheduled" for Wednesday.
Andrew Sawa, who spoke on behalf of others, said: "The PDP stakeholders and all aspirants of all cadres express our displeasure with the way and manner our great party is being deliberately thrown into confusion by the national secretariat in collaboration with a few from the state".
Other aspirants were in attendance were Ahamed Moddibo, Markus Gundiri, Aliyu Kama, Abubakar Girie, Grace Bent and Awal Tukur. The state Governor, James Bala Ngillari, was represented at the conference by his campaign Director, Abubakar Girei.
The Governor's representative confirmed the boycott and explained it was a "unanimous resolution to distance, condemn" and reject the primary adding that it was a protest against the illegality going on in the party.
They aspirants accused the national body of "flagrant and open abuse of the rule of law" for conducting the state governorship primary in Abuja Monday.
Sawa also noted that the party's guidelines and the Electoral Act stated clearly that "should there be any change of election venue, there must be a notice of not less than seven days and more to that, all elections should be held in the various constituencies.
He stated in this case, there was no prior communication either from the Independent National Electoral Commission, (INEC), or the party.
The aspirants therefore called on President Goodluck Jonathan, to cancel the primary held by the NWC in Abuja or the party should risk losing the the state in the coming general elections.
They all condemned the action of the National Working Committee (NWC) of the party and urged Mr. Jonathan to look into the issue before it disintegrates the party in Adamawa and Nigeria.
The State's Chairman of the party, Chief Joel Madaki, said members regretted the way and manner the party was thrown into confusion, warning that the development might ditch the party at the grassroot and the State in general.
Short URL: https://www.africanexaminer.com/?p=20495