African Leader Charges Politician To Focus On People-Oriented Projects
Featured, Latest News
Saturday, June 7th, 2014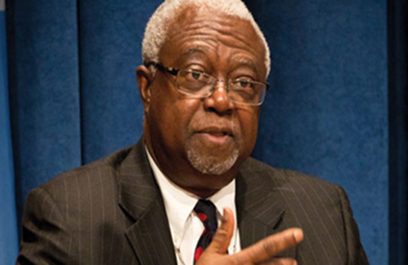 Oyewale Oyelola
A former Liberian President, Professor Amos Sawyer has urged politicians to use state resources for the benefit of the citizenry.
Professor Amos Sawyer made this call while addressing governors at one-day retreat of the Nigeria Governors Forum tagged 'Life after Office' held in Port Harcourt on Friday.
He urged political and public office holders in Nigeria to see their positions as a call to service by using state resources for the overall benefit of the electorate.
According to him, "it is only when lives are impacted that a transitioned leader can enjoy the dignity of service among his people. If there is a spirit of co-operation, the environment for reaching understanding will exit. You must reach common understanding."
Professor Sawyer stated that all public officer holders must begin to think about what quality of life they want after their service and work towards it before assuming office or immediately after they assume office.
He said,"The quality of life every office holder will have after service is a function of the quality of service he delivered while in office. "My preparation for exiting office began at the time that I was inducted into office.
"We must be appreciative of the honour given to us to serve and we must be humbled by this opportunity. We must remind ourselves every day that public service is an assignment and not an entitlement. Serving in leadership position is of time bound duration.
"We must know that others are to follow us and we are in a chain of actors and we have the responsibility to build upon what was done by our predecessors and to leave our footprints for our successors to follow."
The former Liberian President berated political office holders for condemning their predecessor, noting that government is all about continuity.
"Don't condemn your predecessor because you will one day be in their own shoe. Government is about continuity, therefore don't abandon project left behind by your predecessor to score cheap political points." He added
Short URL: https://www.africanexaminer.com/?p=12207