Drama, Confusion As Saraki's Lawyers Walked Of Court Over Alleged Breach Of Constitution  
Featured, Latest News, News
Thursday, November 5th, 2015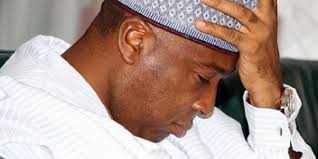 By Ganiyu Nasirudeen
There was confusion at the Code of Conduct Tribunal (CCT) Thursday, during the hearing of the Senate President, Bukola Saraki, as his Counsels walked out on the court over what was considered breach of constitution.
Saraki's Counsels prayed for stay of proceeding at the CCT, as the case is now pending before the Supreme Court.
Counsels to Saraki have approached Court of Appeal, praying that the charges before the CCT against their clients be struck out over improper composition of the court and lack of jurisdiction by the Tribunal to hear the alleged criminal charges.
The appeal was dismissed last Friday and resolved in favour of the CCT and prosecution Counsel, Mr. Rotimi Jacobs (SAN).    
Mr. Jacobs, Thursday argued that Section 306 of the Administration of Criminal Justice Act, provides that the application for stay of proceedings, could not be entertained.
He was however countered by the accused Counsel, Mr. Raji who contended that the section was related to application for stay of proceeding on the matter before the CCT and not the Supreme Court.
When the Chairman of the Tribunal, Justice Umar Danladi returned after a recess, he ruled that the opposition by the accused Counsels notwithstanding, the trial would continue.
The ruling prompted two of Saraki's Lawyers, Ahmed Magaji and Ahmed Raji, to walk out of the court and described Danladi's order as "judicial rascality". This occurred as Mr. Jacobs was about to bring his witnesses into the box.
Mr. Magaji held that the court's ruling was strange, arguing that it was against the standard practice, for a smaller court to insist on adjudicating on a matter before the Supreme Court.
However, Mr. Raji after pleading the Tribunal to stand down the hearing, also contended that he was not ready to be forced in making explanations at the Supreme Court, following his involvement in the Tribunal's ruling that the hearing should continue.
After the drama, the accused, Saraki, was asked if he wished to continue the proceedings in the absence of his Counsels or needed more time to harmonious with them. His request for a month was declined by the CCT Chairman for this and other options.
Justice Danladi after upheld the opposition to the plea by the prosecution Counsel, who argued that four weeks was too long. He instead requested for 11 days.
Following this, the CCT Chairman adjourned the next hearing to Thursday, November 19, 2015.
Recalled, Saraki first appeared before the CCT September 18, over false asset declaration and 13 other criminal charges, after failing twice to show up. He had since pleaded not guilty to all the charges. Thursday appearance was Saraki's third appearance at the CCT and which he will be docked.
Short URL: https://www.africanexaminer.com/?p=27082