Breaking News: Another Bomb Explosion Hits Jos
Featured, Latest News
Saturday, May 24th, 2014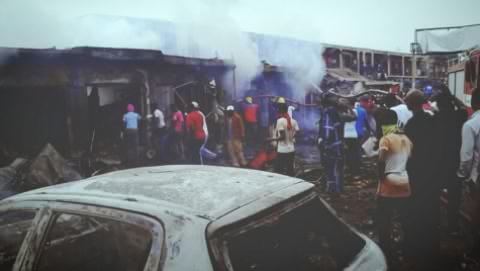 Barely five days after an explosion rocked the ever busy Jos Main Market and its environs, there has been another explosion.
The nature of the explosion is yet to be ascertained., however, the explosion reportedly hit Bauchi road area of the state.
According to reports, the explosion occurred near a football viewing center and has been confirmed by a Police spokesperson.
The explosion was reportedly set off by a suicide bomber.
A  resident said the suicide bomber died 20 metres from a viewing centre where football fans gathered to watch the ongoing final of the UEFA Champions League between Real Madrid and Athletico Madrid.
In a statement on Saturday night, Plateau State Governor, Jonah Jang, urged the people of the state to remain courageous. He said it was sad that the attack was coming barely four days after a similar one. He vowed to ensure that the masterminds are tracked down.
Meanwhile, our correspondent gathered that the suicide bomber and two others have been confirmed died in the Saturday's explosion.
How The Incident Happened 
African Examiner's correspondent who visited the scene of the blast gathered that the suicide bomber who was targeting a viewing centre which has an estimated number of viewers of over 300 who were watching the UEFA champions league final, between Real Madrid and Atletico Madrid.
Narrating the incident that led to the death of Alhaji Bello the owner of the house where the suicide bomber blew himself, the younger brother of the deceased, Garba Ahmed said, "Around 8:30pm I came into the compound of my elder brother and met him arguing with someone that he is not comfortable with the presence of the car there and asked the driver of the car to take it away from there. But the man refused.
"So he went into the house and instructed his wife and children to leave the house. After they have gone, he came back and called a neighbour, telling that he is suspecting the vehicle (Honda Odessey).
"We all insisted that he removes the vehicle but he refused, when we further insisted, he agreed that he will remove the car, so when he entered the car they further insisted that he must take the car away, then I had gone into the my own compound but I was hearing them.
"When started the car, the bomb exploded with him and my brother and his friend who had come to visit him were killed.
"It could have been worst if not that his family members had gone out.
Meanwhile, the Executive Secretary of the Plateau State Emergency Management Agency, Alhaji Alhassan Barde said, unidentified corpses of the Tuesday twin blast at Jos University Teaching Hospital and other hospitals in Jos would be give a mass burial on Monday.
Short URL: https://www.africanexaminer.com/?p=11726