At last Fashola begs Igbos over Deportation Saga
Featured, Femi Kehinde, Latest News
Thursday, September 26th, 2013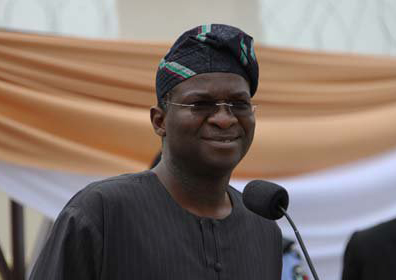 Lagos state governor Babatunde Fashola
(L-R) Deputy Speaker House of Rep Emeka Ihedioha, Gov Fashola of Lagos and Sen Ayim Pius Anyim, Secretary to THE Government of the Federation
By Femi Kehinde, Lagos
"I offer an unreserved apology if the actions taken had been misunderstood", Lagos State
Governor, Mr. Babatunde Fashola (SAN) said while offering an unreserved apology for alleged 'deportation' of some destitutes to Onitsha, Anambra State.
Governor Fashola was accused of dumping 70 beggars at Onitsha Bridge on July 24, a situation that generated public outcry and bad blood but the government said it relocated only 14 people to Onitsha after rehabilitating them. This did not go down well with the Igbos.
Fashola offered this apology at the silver jubilee of the Igbo socio-cultural think-tank, Aka Ikenga held at the Nigerian Institute of International Affairs, Victoria Island.
Dignitaries at the event include: the Secretary to the Government of the Federation, Anyim Pius Ayim, who represented President Goodluck Jonathan; House of Representatives Deputy Speaker, Chief Emeka Ihedioha; Catholic Bishop of Sokoto diocese, Matthew Kuka; former Minister, Gen. Ike Nwachukwu; President Aka Ikenga, Goddy Uwazurike; former ambassador George Obiozor and President of Ohaneze Ndigbo, Gary Enwo-Igariwey.
Others are: the former President Aka Ikenga, Chief Chris Asodoka; Director, Lagos Business School, Prof. Pat Utomi; Captain Emma Iheanacho; Nollywood artistes, Onyeka Onwenu and Kanayo O. Kanayo.
He explained that the largest herds of cattle he received when his father died was from the Igbos.
Fashola said: "I came here to say  thank you for the honour done to my family and the memory of my late father.
"People who clearly do not understand the actions taken and words spoken are those I owe an explanation. I cannot take the Igbos for granted because we have built a relationship based on tolerance, mutual respect, love and trust. That relationship was built by our ancestors and I put a lot of value in that relationship.
"I offer an unreserved apology if the actions taken had been misunderstood.
"But I think the basic issue Aka Ikenga must address is why people feel compelled to immigrate from one part of the country to the other? Is it the case that some lack the resources to develop or perhaps some parts are endowed with enormous resources but not adequately managed?
"How can development be so difficult from the zone that has produced people like Nnamdi Azikiwe, Alex Ekwueme, Ike Nwachukwu, among others?
"As political storm gathers, there are contact spots but like in football, contact spots have rules. Those who are victims of our shortcomings as professionals in and out of government should not be pounced.
"A day like these calls for deep reflection about issues of our loyalties. Are we more Igbo than Nigeria or we are more Nigeria than Igbo?"
Short URL: https://www.africanexaminer.com/?p=1809