Group Roasts Buhari as Surviving Soldiers Cry Out Over Obsolete Weaponry
Featured, Latest News, News
Saturday, November 24th, 2018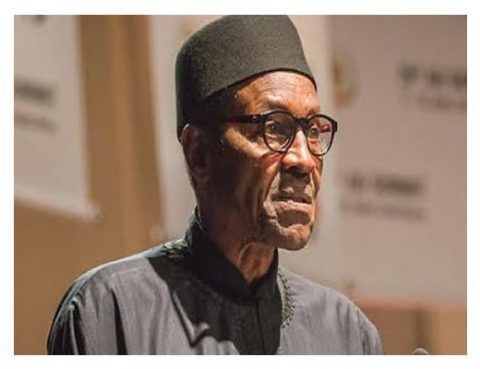 …Say "They (Military Authorities) Have Turned us to Business"
(AFRICAN EXAMINER) – A pro-democracy group, named Alliance for Justice (AJ) has taken a swipe at President Muhammadu Buhari over the killing of many Nigerian soldiers at 157 Task Force Battalion in Borno noting that the president has lost control of the fight against Boko haram and should not be re-elected.
African Examiner reports that over 120 soldiers were killed by the dreaded Boko Haram Insurgents on November 8 at Metele, Borno state, Northeast, Nigeria in a pre-dusk attack at their military base.
The group in a statement signed by its convener, Ben Sanyaolu called on Nigerians to reject Buhari at the polls even as he noted that the performances of APC government in the last 3 years are grossly inadequate to earn the president another 4 year-term in office adding that Nigeria needs a new breath of life.
Similarly, Nigerian Soldiers who survived the much publicised bloody attack by Boko Haram on the military formation in Metele have urged the President to probe the quality of weapons procured by the military authorities and  save them from further deaths.
In a video sent to journalists  in Maiduguri, the soldiers accused the military authorities of providing  them with obsolete weapons, which they said are grossly inadequate  to effectively confront the insurgents in the ongoing counter insurgency campaign in the Northeast.
The video reads:  "See what the Nigerian Army has been doing to us, they brought us here.  See how they killed our fellow soldiers, they burn them inside the tanks."
"They are using us to make money; why? Are we not human beings? They can kill soldiers inside a tank; if Rocket Propelled Grenade (RPG) can penetrate M-RAG vehicle, what of a fellow human being?
"This is the location called 'Metele', This is a place they (the insurgents) took over 40 barrel and these people want to use us, and within one week they killed over 200 soldiers and we are now 147, they want to waste us here. It is a lie, our blood is not here.
"This is a Third World vehicle, a tank manufactured in 1972; and Albarnawi broke all of it. They want to use us and we are not getting anything from them. We  want to tell the government of our condition.
"Please; the Federal Government should intervene before the insurgents come and kill us. They mocked us and said we are Zombies; animals, we do not know our rights, any order given to us we will follow.We are millennium soldiers, most of us are graduates.
"Look at what they did to this T12 tank; it is obsolete. It was a 1983 Czechoslovakian  tank procured during Shagari's regime. Is this the money the Federal Government provided to procure weapons?
"All the equipment are not working. When it fired two shots it stopped. All the weapons are obsolete and bought during Shagari.
"We know about the money the Federal Government gave to them but the Nigerian Army had turned us into a business".
"All the money federal government gave them to buy weapons… Nigerian Army is buying INNOSON…. All these are obsolete… Oyinbo came here and said they are obsolete. All these weapons were bought during the Shagari regime in 1983… They have turned us to business…. Federal Government you will hear about it….
"All these weapons are not genuine…if you fire two times you have stoppages. This is 1983 when Shagari was head of state… Federal Government give them money, they go and buy INNOSON, Nigerian made… Federal Government please help us. Help us."
The  Nigeria Army however on Friday,  confirmed on its Twitter handle  the attack on 157 Task Force Battalion at Metele, on November 18 by Boko Haram insurgents.
Short URL: https://www.africanexaminer.com/?p=46610