Centenary City: Anyim Sues Cairo Ojougboh, Claims N1 Billion For Defamation
Featured, Latest News, News
Monday, August 10th, 2015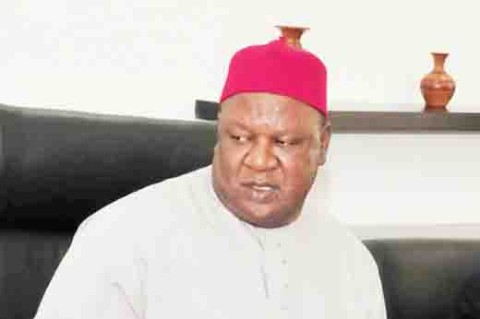 Senator Anyim Pius Anyim, immediate past SGF has dragged Dr. Cairo Ojougboh, the National Vice-Chairman (South-South) of the Peoples Democratic Party (PDP) before an Abuja High Court, claiming the sum of One Billion Naira as general, aggravated, punitive and exemplary damages over publicatons and interviews granted by Ojougboh in which he alleged that the Centenary City Project is a scam by Anyim.
It will be recalled that in an interview granted by Ojougboh and published on page 3 of the Daily Trust Newspaper of July 13, 2015, titled "Jonathan's Centenary City is Crime Personified". Ojougboh said "the Centenary City built during President Goodluck Jonathan's administration was a blueprint for corruption…" Ojougboh went further to say "Somebody within that office called the SGF, had the impunity to tell Nigerians lies that the Centenary City is a Public Private Partnership arrangement, I mean it is a lie. In fact, huge chunk of land was given to only one man and it didn't stop there. He now went to incorporate the entity as a free zone. Where have you ever seen it in this world? It is crime personified.
In another story published on page 15 of Thisday newspaper of July 18, 2015, Ojougboh alleged that Anyim was threatening his life for blowing the whistle on the corruption and fraud involving Sen. Anyim in the Abuja Centenary City Project. In the story captioned
"Ojougboh Alleges Ex-SGF Anyim Threatening His Life". Ojougboh alleged that he "discovered multiple instances of corruption and fraud which were brought to his attention via petitions written by various anti-corruption NGO's and in particular the Nigerian Women Against Corruption regarding the Centenary City Project having been an elaborate  scamperpetrated by Senator Anyim Pius Anyim, the former Secretary to the Government of the Federation." Ojougboh further alleged that he was forcefully removed from office as Chairman of the Board of Nigerian Export Processing Zone Authority, NEPZA by Ex-SGF, Anyim for unravelling the allegation of fraud levelled against him. Ojougbo was quoted to have shown to a group of journalists copy of a petition he sent to the Inspector General of Police, IG Mr Solomon Arase titled "Letter of Complaint to threat of life, intimidation, blackmail by Senator Anyim Pius Anyim"
In the suit filed on the 7th of August, 2015 by Mike Ozekhome's Chambers (Legal practitioners and notary public) on behalf of Sen. Anyim, the Ex-SGF is contending that the publications are false, unfounded, baseless
and constitute a figment of Cairo Ojougboh's warped imagination which are calculated to bring him to great disrepute and lower him in the estimation of right thinking and reasonable members of the public. Anyim further avers that the stories were maliciously concocted to frustrate the Centenary City Project, and in particular, to scare away foreign partners as well as incite the investors and management of the
Centenary City Project against him and lower him in their eyes. Anyim is seeking, among other things, an order of the court directing the defendant(Cairo Ojougboh) to pay him the sum of ₦1b as general, aggravated, punitive and exemplary damages over the embarrassment, public odium, derision, ridicle, obloquy, mental agony and psychological trauma which Ojougboh's publications have caused him.
No date has been fixed for hearing the case as he courts are yet to resume from vacation.
Short URL: https://www.africanexaminer.com/?p=24792