Charlyboy's Group, OurMumuDonDo Takes `Vote Buying' Campaign To Osun
Entertainment, Featured, Latest News, Politics
Monday, September 17th, 2018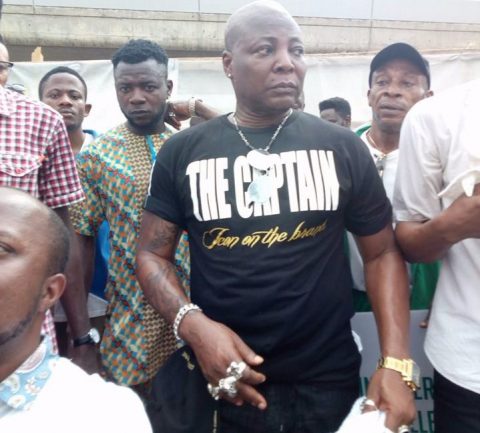 (AFRICAN EXAMINER) – The OurMumuDonDo civil society group led by Charles Oputa,a.k.a Charly boy , on Monday held a public campaign against vote- buying in Osun, ahead of the governorship election on September, 22.
Members of the group, drawn from across the country, took the "Don't sell your Vote" campaign across major streets, markets and parks in Osogbo.
According to the conveners, the rally is part of the Voters Education initiative of the group to ensure that ordinary Nigerians get rightly involved in governance and hold leaders accountable to their campaign promises.
Charlyboy, popularly known as "Areafada", said that vote-buying was an increasing menace to Nigeria democracy that must be curbed on time if the nation wants selfless and competent leaders.
"As a group that is genuinely interested in good leadership at all levels in Nigeria, we do not want the incidence of alleged massive vote-buying that took place in Ekiti, to happen here in Osun state.
"We are here to tell the electorate that, as they go to the poll on Saturday, they should not sell their votes for any other monetary value, and then suffer for the next 4 years.
"The ordinary people here in the market and on the streets, need to know that they must not allow desperate politicians to take advantage of hunger in the land, to rob them of their future," he said.
Also, Mr Deji Adeyanju, a co-convener of the 'Ourmumudondo' group said: "Election should not be seen as a business transaction where there are sellers and buyers.
"All we want is a society that works for everyone at the end of the day, instead of mortgaging our future for stipends," he said.
Mr Ariyo-Dare Atoye, also a co-convener of the group, told NAN on the sideline that the campaign was a timely intervention to savage the Nigerian electorates from the hand of selfish politicians.
He lamented that desperate politicians were taking advantage of the current economic challenges facing the average Nigerian voter to manipulate them with money.
"A lot of our politicians have nothing to offer the people other than money, and that is why we are preaching that people should not sell their future for five thousand naira.
"Vote-buying is a hurricane that will eventually kill all of us if not stopped, "he said./NAN
Short URL: https://www.africanexaminer.com/?p=45899