Coroner: Witness Links Adeleke's Death to Drug Overdose, Excessive Alcohol; Family Kicks
Featured, Latest News, News
Wednesday, May 17th, 2017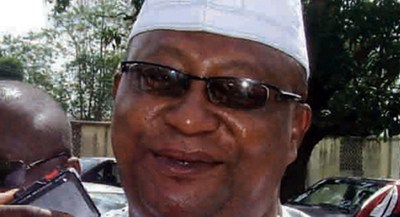 OSUN, NIGERIA (AFRICAN EXAMINER) – Shocking revelations suggesting self-destruction and foul play have begun to emerge, as the coroner inquest on the recent death of the pioneer Osun State Executive Governor Senator Isiaka Adeleke gathers momentum.
While giving his testimony Wednesday, a Pathologist, Dr. Taiwo Solaja, who earlier involved in the autopsy of the late Lawmaker, linked Adeleke's death to be "multiple aspiration" or choking due to drug overdose.
The Coroner's inquest according was set up by the Osun State Government to unravel the real cause of the Serubawon ex- Governor's death.
Adeleke, a native of Ede died Sunday, April 23, 2017.
In addition to drug overdose, Dr. Solaja also testified that his team discovered "excessive alcohol, sedatives, and painkillers such as Diazepam and Analgin in the body of the late Senator.
According to the Chief Medical Director of Ladoke Akintola University of Technology (LAUTECH) Teaching Hospital, Professor Akeem Lasisi, Analgin has been banned by the Nigerian government over 10 years ago.
Relatives, friends and political associates of the late former Governor have alleged that some political opponents instigated the lawmaker's death, linking the antics to the coming Governorship race of the South West State.  
In the meantime, late Senator Adeleke's family has rejected Prof Lasisi's testimony, describing it as thrash, lies and unprofessional.
The family led by the deceased younger brother, Dr. Adedeji Adeleke, dropped the bombshell Wednesday, at a press conference held in Ede while reacting to the LAUTECH CMD's account, before the Coroner, Mr. Olusegun Ayilara.
While contending that the CMD has declined to make available to the family, result of the autopsy on the deceased, Dr. Adeleke declared  that it was disheartening that "we live in a country where some of our supposed professionals can be so easily compromised by their paymasters without any regard to the oath they swore to as medical health practitioners".
"The family has also noted with interest the contradictory testimonies at the Coroner's Inquest as to whether Senator Isiaka Adeleke had anything to eat at the last party he attended that was hosted by an Osun State APC chieftain" Dr. Adeleke stressed.
The family further declared that based on the high level of unprofessional conduct already displayed by the CMD of LAUTECH, the integrity of the concealed autopsy "must have been seriously compromised".
Short URL: https://www.africanexaminer.com/?p=39293