Court Bars Bauchi Government from Allocating Plots of Land to PDP Chairman, Others
Latest News, News
Tuesday, December 10th, 2013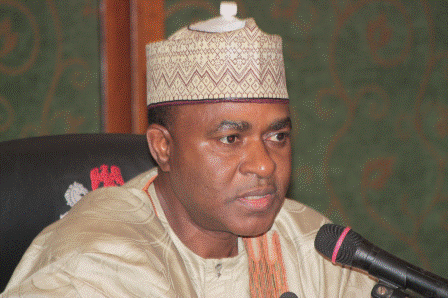 Agabus Pwanagba, Jos
A state high court sitting in Bauchi has restrained the Bauchi State Government from allocating plots of land to the State's PDP Chairman and a Police Officer.
The High Court One which was presided over by the State's Chief Judge, Justice Ibrahim Mohammed Zango, restrained the State Ministries of Lands and Housing, and that of Commerce from allocating a plot of land to the State PDP Chairman Alhaji Ibrahim Yaro Yaro and a Police Officer DSP Shehuddeen Yusuf Baba in Azare Headquarters of Katagum Local Government Area.
This order followed a motion exparte filed by Nura Umar Bala , Sani Shehu Azare and a Group of 'Watchdog on Leadership Development Initiative', against the aforementioned ministries and the State's Commissioner for Justice.
The group asked the court to restrain the respondents from carving out or assigning any portion of NEG/303 land to Alhaji Ibrahim Yaro Yaro , DSP Shehuddeen Yusuf Baba or any other person for the purpose of private use.
Their Counsel Barrister Sale Bakaro told the court that the Plot number NEG/303 has a total of 10.14 hectares along Gadau road , and recently Bauchi State Governor Mallam Isa Yuguda gave approval for the ceding of Portion of NEG/303 to the Bauchi State University to be used for its wider academic activities and administrative convenience, but later substantial portion of the plot was allocated to the PDP Chairman and the Police Officer for personal use.
He argued that the Chairman and the Police Officer were making effort in a hurry to put up structures like Private Hotel and residential duplexes, saying their action has caused great concern to the people of Azare town and some people wrote a petition to Governor Isa Yuguda over the sub division of the plot for private use.
The Judge in his ruling granted an order restraining the defendants from issuing any certificate, developing, ceding, assigning, selling or tempering with the plot pending the determination of the motion.
Justice Zango has fixed18th December, 2013, for hearing of the motion exparte.
Short URL: https://www.africanexaminer.com/?p=5796