Dickson Commends INEC, Bayelsans As Southern Ijaw Elections are Cancelled
Featured, Latest News, News
Monday, December 7th, 2015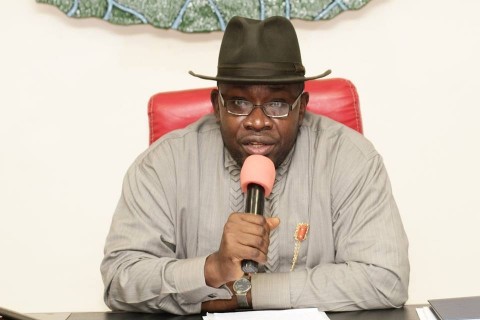 The Governor of Bayelsa State, Hon. Henry Seriake Dickson has commended the good people of Bayelsa State for standing up to be counted by protecting their votes so far in the December 5th governorship election in the face of intimidation, harassment, killings of innocent voters and ballot snatching by the Nigerian military and APC thugs in Brass and Southern Ijaw local governments.
Governor Dickson was full of praise for the people for their courage, stressing that, the cancellation of the elections in Southern Ijaw could not have happened without the resilience and courage of Bayelsans in defending democracy and the Ijaw nation.
A Government House statement noted that, the cancellation has further vindicated Governor Seriake Dickson, who had earlier urged the commission and the security agencies not to go ahead with the election in Southern Ijaw in the light of clear cases of insecurity created by the APC, who were jittery and were losing in the results collated from seven out of eight local government areas.
"If the commission and the security agencies had heeded the governor's counsel, they wouldn't have wasted tax payers money conducting the ill-fated elections in some wards in Southern Ijaw"
The statement also commended INEC for cancelling the election and called on the federal security not to put the state under siege again in the rescheduled date, because Bayelsans will always resist any attempt to subvert the will of the people.
The statement enjoins Bayelsans to remain law abiding and go about their businesses, assuring them of the government's readiness to always protect their interest and also deliver democracy dividends to all Bayelsans and the Ijaw nation.
Daniel Iworiso-Markson
Chief Press Secretary to the Governor of Bayelsa State
Short URL: https://www.africanexaminer.com/?p=28388