ECW Grants Uganda Over $4m To Tackle Influx Of Refugees
Latest News, News Around Africa
Friday, May 19th, 2023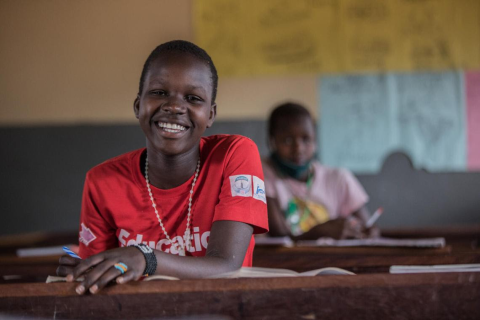 (AFRICAN EXAMINER) – Education Cannot Wait (ECW) has announced a $4.1 million First Emergency Response Grant in Uganda, to enable the East African nation tackle the large influx of refugees.
The new grant, which was delivered through the United Nations High Commissioner for Refugees (UNHCR) and Save the Children, brings ECW's total funding in Uganda to $76.7 million and it is targeted at reaching over 130,000 children and adolescents.
ECW is the United Nations (UN) global fund for education in emergencies and protracted crises. It supports quality education outcomes for refugee, internally displaced and other crisis-affected girls and boys, so no one is left behind.
The organization also works through the multilateral system to both increase the speed of responses in crises and connect immediate relief and longer-term interventions through multi-year programming. ECW works in close partnership with governments, public and private donors, UN agencies, civil society organizations, and other humanitarian and development aid actors to increase efficiencies and end siloed responses
The 12-month grant aims to alleviate the plight of children and adolescents in the areas of Uganda that have been most affected by recent influxes of refugees, including Nakivale, Rwamwanja, Palabek and Rhino Camp
Notably, the new investment aligns closely with the Government of Uganda's Education Response Plan for Refugees and Host Communities.
Uganda hosts the largest refugee population in Africa and the third largest in the world. With armed conflicts, climate change and other crises affecting neighbouring countries, the number of refugees arriving in Uganda has jumped substantially in recent years.
In 2022, over 140,000 refugees entered Uganda, primarily from the Democratic Republic of the Congo and South Sudan. UNHCR expects an additional 120,000 will arrive this year.
While the Government of Uganda has taken substantial steps to provide access to essential services – including education to refugees – schools are crowded, resources are strained, and girls and boys face increased risks of child marriage, early pregnancy, hunger, dropping out, post-traumatic stress and other challenges.
Executive Director of ECW, Yasmine Sherif said with more refugees seeking safety in Uganda, the Government's Education Response Plan must be fully supported to ensure that children and adolescents can quickly access protective learning environments, mental health and psychosocial services, school meals, scholastic materials, classrooms and teachers.
"Their education cannot wait as this is a protracted situation and their needs, as well as their rights, are our priority. I urge world leaders and public and private sector donors to enable Education Cannot Wait to support the collective, coordinated and urgent response in Uganda", she said.
Similarly, the UNHCR Country Representative in Uganda, Matthew Crentsil noted that many refugees arrive in Uganda having experienced several cycles of violence, with urgent protection and life-saving assistance needs.
"Children and youth require education services to resume a sense of normalcy, acquire numeracy, literacy and life skills, while minimizing the risk of violence and exploitation caused by displacement.
 "I laud ECW for availing this much-needed First Emergency Response funding contribution, which will support children's access to quality education through upgraded infrastructure, additional teachers, and scholastic materials. The ongoing refugee influx has led to a significant increase in the number of school-age population, resulting in constrained education services", he added.
Uganda's Save the Children Country Director, Dragana Strinic said her organization appreciates the contribution by ECW towards ensuring that newly arrived refugee children are provided with learning in safe environments.
"We are committed to work with partners and support the Government of Uganda in ensuring that girls and boys who are affected by humanitarian crises recover from the impact of conflict and have continued access to their right to quality education", she stressed.
In addition, the investment will increase the capacity of early childhood development centres, non-formal education, and primary and secondary schools across the targeted areas, supporting the enrolment of additional learners and new arrivals.
There will be a particular focus on girls and children with disabilities. As new arrivals have lived through truly horrific ordeals, including losing their homes and their loved ones, many suffer from post-traumatic stress. The investment will help learners to manage stress and conflict, and improve their self-confidence, self-esteem, and social skills with direct mental health and psychosocial support services.
To improve the quality of education, the investment will provide learning materials, teacher training, language programmes and other support to foster safe and protective learning environments.
Short URL: https://www.africanexaminer.com/?p=88031