Emulate Governor Abubakar's Investment in Education, Health —Maitama Yusuf Tells Northern Governors
Featured, Latest News, News Across Nigeria
Saturday, March 26th, 2016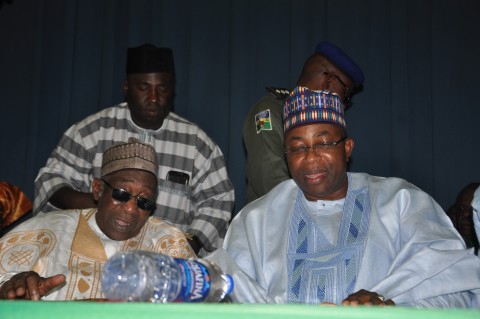 An elder statesman and one of those who struggled for Nigeria's independence, Alhaji Yusuf Maitama Yusuf, the Danmasanin Kano, has commended Governor Mohammed Abdullahi Abubakar for making huge investment to the development of education and health, urging other northern governors to emulate him.
The elder statesman who stated this while conferring an award on the Governor in Abuja on Thursday at the National Convention/Conference of forum of former Senators and House of Representatives from 1st to 4th republics forum, headed by Senator Joseph Wayas, described education and health as the heart of human survival.
Alhaji Yusuf Maitama Sule noted that the United Nations Educational Scientific and Cultural Organization, UNESCO, has recommended the provision of 26% of annual budgets of all developing nations to the development of education sector, saying what Governor Mohammed Abubakar has started in the area of education and health is commendable and urged other governors, especially those of northern states to emulate.
"We must give education priority attention because all developed nations are so developed because they have given sufficient attention to the development of that important sector" the statesman said, and stressed that with proper investment in education, half of the problems of all nations are solved. He said no country can claimed to have security if it fails to have food security.
While accepting the platinum award by the forum of former Senators and House of Representatives from 1st to 4th republics forum, Governor Mohammed Abdullahi Abubakar lamented that his administration's only 10 months in office which has been dedicated to restoring decayed institutions that suffered neglect and abuse by the past administration is being criticized by those who are used to the former administration's style of leadership. He maintained that he remained resolute in his restoration drive, and stressed that the change mantra is working in Bauchi state. "Let me reiterate here that I remain resolute and committed to changing Bauchi state and no amount of intimidation will deter me", the Governor said.
The Governor explained that many organizations have approached him with offers to confer awards on him, saying he only accepts awards from credible associations like the one conferred on him by the forum of former Senators and Members of the House of Representatives from 1st to 4th republics forum, headed by Senator Joseph Wayas that is made up of people of proven integrity and respect in all parts of the country.
"I consider this award different from others; it shows that whatever we do we are being observed and therefore is a big challenge for us to remain committed and strive double our efforts and do more to improve the lives of our people through the change mantra of our party, the All Progressives Congress, APC, a real sustainable change", the Governor said.
He commended the Speaker and Members of the Bauchi State House of Assembly whom he said support the change and restoration agendas of his administration and pointed out that one of the areas the administration focuses attention to is the area of taxing surface activities of solid mineral resources, harnessing the tourism potentials of the state and revitalizing agriculture, all of which are geared towards improving internally generated revenue base of the State.
The Governor therefore appealed for continued public understanding and support to the administration, and assured that results of the sacrifices "we all have to make for our administration's policies which are reflections of those of President Muhammadu Buhari and the APC manifesto, will be "reaped bountifully".   
According to the forum, Governor Abubakar was one of this year's awardees because of his exemplary efforts to the developments of education, health, agriculture, infrastructural development and job creation for youth.
(Abubakar al-Sadique), Press Secretary to His Excellency, the Bauchi State Governor
Short URL: https://www.africanexaminer.com/?p=31249