Ekiti Murder: Bamidele Wants Fayemi's Aide Investigated
Featured, Latest News
Sunday, November 10th, 2013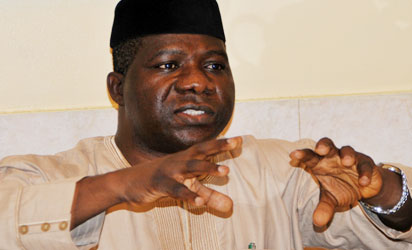 Hon. Opeyemi Bamidele, a member of the House of Representatives representing Ado Ekiti/ Irepodun-Ifelodun federal Constituency in Ekiti State
By Femi Kehinde, Lagos
Member, House of Representatives and Ekiti Governorship aspirant, Hon Opeyemi Bamidele, has called on the Inspector General of Police, Alhaji Mohammed Abubakar to thoroughly investigate the alleged involvement of the Chief of Staff to Ekiti State Governor, Mr Yemi Adaramodu over the series of killings in the State.
Bamidele said it was curious and rather suspicious for Adaramodu to write a petition to the IGP that some politicians were planning to rope him into the murder case that occurred last week in Emure Ekiti.
A member of the Ekiti Bibiire Coalition, Mr Foluso Ogundare was shot dead by political thugs on Sunday, November 3, 2013 while Mrs Beatrice Ige, another member of the coalition was shot in the buttocks.
In Adaramodu's petition dated November 8, 2013, he claimed to have taken this step as a pre-emptive measure to stop the alleged plan to rope him in and send him behind bars by some politicians, particularly in connection with the brutal murder of Foluso Ogundare in Emure Ekiti.
In a statement in Ado Ekiti by his Media Aide, Ahmed Salami, Bamidele averred that Adaramodu was not mentioned by his group as the mastermind of the nefarious act, saying the petition by him to IGP was a pointer to the fact that he was hiding something.
The Chairman, House Committee on Legislative Budget and Research, appealed to the Police and other security agencies to swiftly investigate the activities Governor Kayode Fayemi's Chief of Staff cum
political strategist. Mr. Adaramodu's constant outcry at every slightest opportunity that some people were planning to get him out of circulation calls for concern and should be investigated.
According to him, "in our letter to the Police, we didn't mention Adaramodu as the mastermind of the Emure killing, why is he therefore afraid of his own shadow? Why is he trying to pre-empt police
investigations into the matter? This has been observed as his modus operandi. Recently, Adaramodu equally raised an alarm in conjunction with the top leadership of the All Progressives Congress, led by Chief Jide Awe that some politicians were planning to kidnap some PDP top notch in an attempt to frame them up. I want to believe that Adaramodu and his cronies are hiding something which the police authorities must help Ekiti people unravel.
"Can Adaramodu deny the fact that he superintended over a meeting involving councillors and political appointees at Emure Ekiti held at the House of the Chairman of the Council, Hon Febisola Adewale just two days before the gruesome murder of Ogundare? His pre-emptive action is therefore belated because no man sheds the blood of other person in a democracy and go scot-free. We advise Mr. Adaramodu not to impede or derail police investigations. It is only the security agencies that can clear him of any culpability, not any emotion-seeking noise-making".
Bamidele also slammed Governor Kayode Fayemi for not issuing any statement commiserating with the family of late Foluso Ogundare's describing this as callousness and high insensitivity on the part of the
Governor. "Up till now, Governor Kayode Fayemi as the Chief Security Officer of the state, has not issued any statement to commiserate with Ogundare's bereaved family neither has he paid them a visit or sent emissaries. Both late Ogundare and injured Beatrice Ige are members of the APC who fought relentlessly with him for three and half years in his struggle to claim his mandate at the Elections Petition Tribunal".
"Even if those hit by bullets of the APC killers Squad were members of the opposition PDP, are they not indigenes of Ekiti State which Fayemi is supposed to be the Chief Security Officer? Fayemi sworn on
oath to govern and protect the lives of Ekiti people and not to expose them to untimely and avoidable death.
Ekiti people are worried stiff about this obvious slide to anarchy and unwarranted display of rascality by the government of the day and the earlier the authorities concerned calls Governor Fayemi to order, the
better before the people begin to defend themselves. Power belongs to the people and that the worst offence a man can commit in life is for him to take the life of other fellow man.
Short URL: https://www.africanexaminer.com/?p=4616