Guber Poll: Nwobodo Condemns 'Do Or Die Affair' Comment By Enugu Senator-Elect
Enugu, Latest News, News From The State
Friday, March 3rd, 2023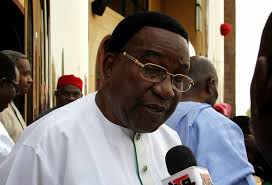 (AFRICAN EXAMINER) – Former governor of old Anambra State , and Elder Statesman, Dr. Jim Nwobobo, has condemned in its entirety a comment recently made by the Senator elect for Enugu North Senatorial district, Chief Okey Ezea, who said that the forthcoming March 11, governorship and House of Assembly election will be a do or die affair in the state.
He described as most unfortunate such a provocative statement by Ezea, saying such drum of war is capable of precipitating bloodshed in the March 11 governorship election in the state.
This is even as the Campaign Council of the Enugu State Chapter of the Peoples Democratic Party (PDP) called for Ezea's arrest over the alleged inflammatory statement.
 Speaking with Newsmen Wednesday  at his Amechi Awkunanaw country home on the trending video where Ezea told the people of Enugu North at his Itchi country to see the forthcoming governorship election as "a do-or-die game" for North Senatorial District, Nwobido, warned that such remark is capable of tearing the state apart.
 "I invited you this morning to inform you of the looming danger that Chief Okey Ezea, Ideke's very inciting speech portends for the forthcoming governorship election of March 11. 
He said "I watched a video where Ideke, the Senator-Elect for Enugu North Senatorial Zone, was saying that the governorship election would be a do-or-die battle.
"I was shocked that somebody, who has just been elected to represent his people at the National Assembly could make such an inciting statement while addressing a gathering of his people. 
"He was inciting the good people of Nsukka against the people of Nkanu, literally drumming up war on the day of the next election.
"First, I want to plead with the peace-loving people of Nkanu not to react violently to the unprovoked statement made by Ideke.
" The people of Nsukka are our brothers and sisters and not our enemies. As a governor of Old Anambra State, I had a very good relationship with Nsukka, and they were my great supporters.
"Peter Mbah is seeking to be governor of Enugu State made of Enugu North, Enugu West, and Enugu East, and not the governor of Nkanu. I repeat, Peter is contesting to be Governor of Enugu State from Nkanu, and not Governor of Nanu
"I strongly believe that statement from Ideke does not represent the view of the good people of Nsukka that I know".
However, the PDP Governorship Campaign Council in a statement signed by it's  Director of Communications and Spokesman, Barr. Nana Ogbodo, maintained that the Ezea's statement was a breach of the accord for peaceful election signed by all the political parties and candidates.
The party therefore, called on security agencies to take resolute action against what it described as"awful incitement and prelude to bloodbath".
"We viewed with shock the trending video on the internet and social media platforms where the senator-elect for Enugu North Senatorial District, Chief Okey Ezea, urged the people of Enugu North Senatorial District to view the forthcoming governorship election as one which Nsukka people must win by all means, even at the cost of human lives.
"Under no compulsion, Ezea stated, among others: 'The March 11th election is a straight fight between Nsukka and Nkanu to know who is bigger than the other because Nkanu people want to turn us, the majority, to minority. 
"So, you must prepare very well. You must make sure the directive goes round. This is about Nsukka. 
"Young men, please, you must prepare yourselves very well. We are going into a war on March 11th and it is a do or die game. Nobody can come from outside to use Nkanu votes to intimidate us here'
According to the party, "This is hate speech and a most unfortunate development in a state where Ndi Enugu have coexisted as one family. It is a clear incitement to electoral violence and a prelude to needless bloodbath.
"This is also sad coming from one, who recently rode on the crest of Peter Obi's credibility and peaceful dispositions to win a senatorial election just last weekend.
 "We therefore call on the Inspector-General of Police and the Commissioner of Police to immediately effect the arrest of Chief Okey Ezea to preempt this plot to kill hapless citizens and destroy their properties for their political beliefs and choices
 "Ezea's arrest has become very expedient to ensure a conducive environment for the people of Enugu State, especially the people of Enugu North senatorial zone, to freely exercise their franchise irrespective of the party or candidate that they support", the party stated.
The PDP Campaign Council, however urged the people of Nsukka zone not to succumb to the threats by Ezea and come out en masse to vote for the candidates of the PDP in the March 11 elections as they had done in the past.
Short URL: https://www.africanexaminer.com/?p=85814