Fashola Budgets N489.69 Billion For 2015
Featured, Latest News, News From The State
Monday, November 24th, 2014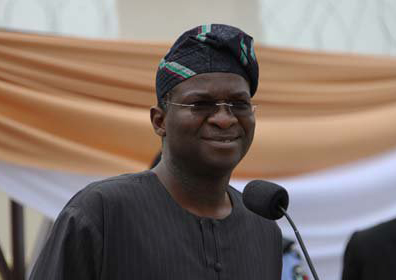 By Ayo Balogun, Lagos
Governor Babatunde Fashola of Lagos State has presented a budget of N489.69 billion to the State House of Assembly for approval for the 2015 fiscal year. The budget is the same as that of 2014, which stood at N489.69 billion.
The budget retains its zero deficit in order to ensure that the next Government does not inherit a deficit. The Capital to Recurrent ratio is 51:49 for 2015 which is the same as 2014 budget. The budget is made up of Capital Expenditure of N249.232 billion and a Recurrent Expenditure of N239.948 billion.
A breakdown of the budget showed that Economic Affairs has the highest allocation of N146.305 billion, followed by General Service, N107.69 billion, Housing and Community Amenities, Education, N82.14 billion; N49.033 billion, Health, N44.619 billion and Environmental Protection, N34.953 billion.
Others are: Public Safety and Order, N15.547 billion; Recreation, Culture and Religion, N3.118 billion; Social Protection, N1.589 billion, Planning Reserve, N2.26 billion and Contingency, N2.448 billion.
Presenting the budget to the Lagos State House of Assembly in Lagos on Monday, Fashola said one of the reasons for the zero budget deficit was to ensure that the next government did not inherit a deficit, saying would give them room to start off very quickly when their programmes began to crystallize and might need to raise funds in order to start off.
"Another reason is that our budgets, like all good budgets are not only defined by plans and expectations, they make more sense if they are defined by resources. Our resources have been severely adversely affected by the management and lack of transparency of the Federal Government and her agencies of the nation's oil proceeds.
"The Federal Government is still owing Lagos State Government N51Billion certified and unpaid, out of N59Billion expended on Federal Government roads in Lagos. They are also owing pension obligations of N673,673,355.25 (Six Hundred and Seventy Three Million, Six Hundred and Seventy Three Thousand, Three Hundred and Fifty Five Naira, Twenty Five Kobo) which they have not paid.
"And as all of us are aware, oil prices have dropped from $100 per barrel and above to just around $80 per barrel at the time we finalized the budget. Our monthly receipts from FAAC have fallen below our usually conservative expectations for the first time in 7 (seven) years.
"And lately, we are noticing that reduced patronage of the tourism and entertainment facilities has occurred in the aftermath of the Ebola outbreak. This has translated to reduced consumption and consequently reduced incomes in the Consumption Tax sub-head of our Internally Generated Revenue. Because we will not implement this budget fully by ourselves, we have thought it fit to moderate expectations in order to avoid disappointments," he said.
The governor said in spite of these challenges, the 2015 budget would focus on payment of contractors' liabilities to enable government complete as many projects "as we can and progress those that we cannot complete before handing over.
"For example, out of the 400 roads that we promised, we have completed 190 over the last three years with 210 at very advanced stages mostly nearing completion. The on-set of dry weather provides the opportunity to complete all of them. We have also started compiling a list of another 400 roads that we will hand over to the next administration for their consideration, adoption and implementation.
"This should help to accelerate and deepen the penetration of our policy of reconstructing inner city roads that are several decades old. One of the highlights of the 2015 budget will be the settlement of outstanding pension liabilities that were imposed by the Federal Government which later became contentious. Without consultation with the States, the Federal Government had reviewed pensioners' entitlements upwards by 142% without a corresponding 142% upward review of States' revenues," he explained.
Fashola said he remained convinced that the Federal Government which received 52% of national revenues and leaves the 36 States and 774 Local Governments to share 26% and 20% of national revenues had no legal basis to impose financial obligations on States and Local Governments, saying that his government's compassion for the plight of these pensioners had weighed more heavily on our minds, than the legal misfeasance of the Federal Government.
"Our Government has therefore committed to pay and now budgets for the 142% arrears, in addition to 12% and 6% recent reviews. This is the least that we think these public servants deserve. Apart from this, our Contributory Pension has been largely up to date, except for a few parastatals for whom we are also making provisions," he added.
Short URL: https://www.africanexaminer.com/?p=19890