Fashola Mobilises Lagosians Against Federal Task force
Featured, Latest News
Tuesday, November 4th, 2014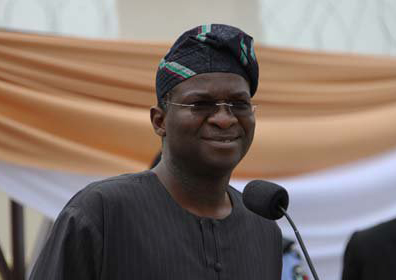 Lagos State Governor, Babatunde Fashola has called on Lagosians to resist the Federal Task force which has driven officials of the Lagos State Traffic Management Authority, LASTMA, out of federal roads in the state.
The SURE-P/FERMA Federal Taskforce invaded federal roads in Lagos on Monday and drove LASTMA officials out of the road.
Speaking with newsmen at the 5th anniversary of Uniformed Voluntary Clubs in Lagos State Public Schools, at the Police College, Ikeja, Lagos, Nigeria, Fashola said the body is clearly illegal and should be resisted.
According to him, the only agencies recognised by law to manage traffic in the State were the Federal Roads Safety Corps and LASTMA, adding that the "illegal" Federal Task Force were constituted to create confusion in the State.
"In the times of elections, all manner of behaviours would be seen. The report got to me and I think they are men of FERMA. That is what we have done with our SURE-P money. It is now for Nigerians and Lagosians to ask the Federal Government and the president if they had been honest with us on SURE-P savings of over N6 trillion, without appropriation, on import of fuel.
"It was a savings to be used to improve our lives. We can now see how it has improved our lives; setting up an organisation that has no law about two months to general election, saying that there were several highways in Lagos that such funds could have been judiciously used.
"Tin Can-Apapa-Oshodi road is one of those roads. There was a container accident that crushed a car on that road on Monday. It is to that kind of routes that SURE-P money is supposed to be going, not to dissipate it into political organisations for a very wanton desperation to win election.
The governor stated that perpetuation of such illegalities was not new, as it was carried out in 2006 but met with defeat.
"So, if they go back to a method that didn't work, we will not be provoked. We expect that at some point in time, common sense will prevail. They have no right to manage traffic. The only agencies empowered by law to manage traffic in Lagos are LASTMA and FRSC on Federal roads. Residents of Lagos should just resist them and should not cooperate with them," he stated.
Short URL: https://www.africanexaminer.com/?p=19386