FG Raises $100m To Rebuild Schools Destroyed By Boko Haram
Latest News, National News, News
Wednesday, June 18th, 2014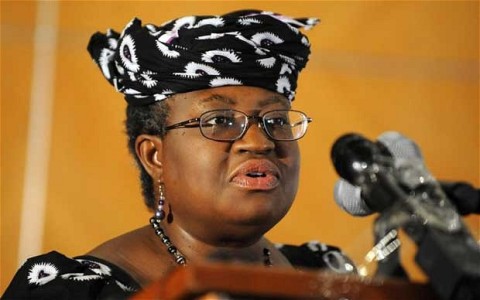 Dr Okonjo Iweala, the Minister of Finance, said the Federal Government was planning more support for the three northeast states of Adamawa, Borno and Yobe, to restore "the means of livelihood of the people" of the area worse hit by four years of the Boko Haram insurgency.
Iweala on Wednesday joined a team of experts led  by the former British Prime Minister and United Nations Special Envoy on Special Education, Mr. Gordon Brown visit schools destroyed during Boko Haram attacks.
Mr. Gordon Brown said the 'Save School Initiative' program would "upgrade school facilities" and restore the means of livelihood of the people.
The Minister of Finance added that with support from Mr. Gordon Brown, the Federal Government was targeting $100 million in the effort.
"I was asked by the president to deliver the 'Save School Initiative' plan to the people, and to see the situation (first hand) as it affects the people. I am happy I saw the situation, and glad I visited the schools, even seeing some students writing exams. I feel happy I was able to interact with the students.
The Federal Government will collaborate with the states affected by the insurgency, to upgrade infrastructure. Most schools in Borno are closed now because of this insecurity, and that is not good for us."
She also explained that the initiative would be a holistic program to include "community participation" and schools.
Iweala commended the Borno government for its efforts in reconstruction, and rehabilitation of school classrooms, despite incessant destruction by the Boko Haram insurgents.
The minister, on arriving in Maiduguri with the Director General of National Emergency Management Agency (NEMA), Alhaji Sani Sidi, distributed relief materials to over 4000 people displaced through Boko Haram attacks.
The distributed materials took place at an IDPs camp at Yerwa Practice Primary School in the metropolis, where she urged the people not to be dismayed.
Representatives of Gordon Brown, Mr Robert Quick, and Dala Masson, said the former UK Prime Minister was "determined to make contribution toward ensuring people in the area return to normal life." As they were led to various schools burnt down in within the Maiduguri metropolitan area, the visitors took note of the sites in front of them.
Governor Kashim Shettima thanked the minister, and the Gordon Brown team, for the visit, saying the visit has "further proved the unity and togetherness in Nigeria" to address the common enemies of people, including poverty, unemployment, and insecurity.
He said he was impressed by the minister's disposition for accepting the invitation to join the Gordon Brown team.
Short URL: https://www.africanexaminer.com/?p=12949