FIRS Partners With ICAN, Tax Consultants To Increase Revenue Collection
Business News, Government Buz, Latest News
Sunday, September 6th, 2015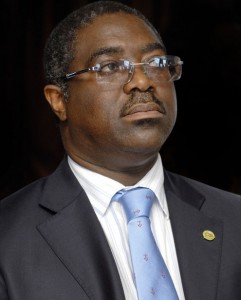 Ayodele Afolabi, Abuja – The newly appointed Acting Executive Chairman, Federal Inland Revenue Service (FIRS), Mr. Babatunde Fowler, has embarked on a landmark collaboration with Audit Firms, Institute of Chartered Accountants, Tax Consultants and other professional Service providers in order to ensure increase in revenue collection.
In the meeting held in Abuja recently, Fowler pointed out that the collaboration between the profession service providers, State's Board of Internal Revenue (SBIR) and FIRS will mark a turning point for taxation as well as reduce the reliance on oil for Nigeria.
The meeting focused on the need to harmonise exchange of information across all the revenue authorities as well as ensuring a synchronised auditing of all the various companies in the country.
At the end of their deliberations meeting agreed to share information with members of National Assembly, particularly on tax laws in collaboration with other professional bodies as well as relevant stakeholders.
They also resolved that FIRS, State Revenue Boards and the various audit firms will carry out joint audits of the various companies to ensure accuracy of the exercise, enhance transparency and drive compliance. These audits will be completed within 30 days and will take cognisance of the various year ends and peak points of activities of the various companies.
He noted that audit and tax consultants were major stakeholders and that their input into tax administration and revenue generation was crucial in moving the nation away from over reliance on oil revenue.
Fowler also said that the input from the stakeholders was necessary for the expansion of the tax net, information dissemination, building capacity of tax administration as well as sharing information that would help to promote voluntary compliance.
"I appeal to you, irrespective of the fact that we have a duty to advice taxpayers, we equally have obligation to government in ensuring increase in revenue collection. Its time to stop all forms of unwholesome practices in tax related issues because Nigerians need us at this critical time to re position the country for more resources.
"We don't have all the answers, we need you from both sides to reposition the entire process. All we are asking for is your cooperation to move the nation's tax system to another level through your support and other stakeholders'' he said.
Fowler said that FIRS through partnership and consultations with the relevant stakeholders will shore-up the tax revenue and improve on the country's tax administration.
Most practitioners who spoke commended FIRS for taking the lead in organizing this meeting and stressed the need for information sharing, observation of the ethical code among stakeholders across levels.
The Former Accountant-General of the Federation and former Chairman Board of Internal Revenue, Mr. Kayode Naiyeju, said that there was the need for continuous consultation and team work because of the complex nature of tax administration.
The Partner Tax Regulatory and People Services of KPMG, Mr. Ajibola Olomola, also appealed to FIRS to grant some form of tax amnesty to deserving taxpayers so as to enhance voluntary compliance and bring potential taxpayers into the tax net.
Short URL: https://www.africanexaminer.com/?p=25472