Gov. Ahmed Presents N124. 5b Budget Proposal to State Assembly
Featured, Latest News, News, Uncategorized
Tuesday, December 17th, 2013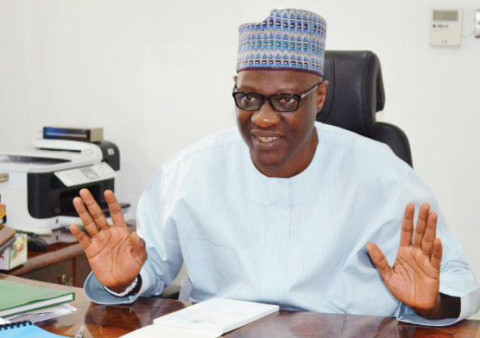 The African Examiner
Kwara State Government has earmarked One Hundred And Twenty Four Billion, Five Hundred and Twenty Five Million, Nine Hundred and Fifty Seven Thousand, One Hundred and Thirteen Naira (N124,525,957,113) as the 2014 budget proposal.
Presenting the budget proposal to the State Legislature, the State Governor, Dr. Abdulfatah Ahmed said the budget tagged "Budget of Expansion for Inclusive Prosperity" has an increase of Twenty Seven Billion, Five Hundred and Ninety Five Million Twenty Two Thousand, Three Hundred and Eight Naira, about 28.46 percent over the 2013 revised budget.
Governor Ahmed noted that the 2013 budget proposal was designed to reduce unemployment, bridge infrastructural gap and drive the completion of the on-going projects.
"The 2014 budget is therefore a blueprint for sustaining on-going development and birthing major new projects to put more money in people's pocket, get more youths into work, remodel additional hospitals, build more schools and roads thus opening new vistas of economic prosperity" he said.
The 2014 budget proposal, according to the governor, has a recurrent expenditure of N48, 542, 484,272, about 39 percent of the budget while the capital expenditure outlay is expected to be N58,700,358,608, about 47 percent of the total budget size.
The Governor added that 14 percent of the proposed budget is expected to be spent on public debt servicing as N17,278,150,233 has been earmarked for that purpose.
Governor Ahmed disclosed that the state government will create 3,500 new jobs and midwife 2000 new youth entrepreneurs through training and access to N200million in affordable revolving credit in the first quarter of 2014.
Reviewing the performance of the 2013 budget, Governor Ahmed said N8,304,406,432 3.56k was spent on rehabilitation and construction of roads, with special attention on the eighty one on-going and newly awarded state road projects  of about 449 kilometres.
He added that forty rural roads covering 377 kilometres were covered in the 2013 fiscal year across the State, while intervention were ongoing on Chikanda/Kosubosu and Patigi/Kpada federal roads.
The Governor noted that 13 water works across the State were rehabilitated in line with his administration's policy of creating access to potable water within 500 metres while N150,562,286 was expended on bulk procurement of materials and drilling of boreholes.
On healthcare, Governor Ahmed said N2,452,170,452.65k was spent on the rehabilitation and upgrading of five General Hospitals in Ilorin, Offa, Omu Aran, Kaiama and Share.
Short URL: https://www.africanexaminer.com/?p=6054