Herdsmen Menace: Abia House Passes Anti-Grazing Bill
Featured, Latest News, News Across Nigeria, News From The State
Thursday, June 7th, 2018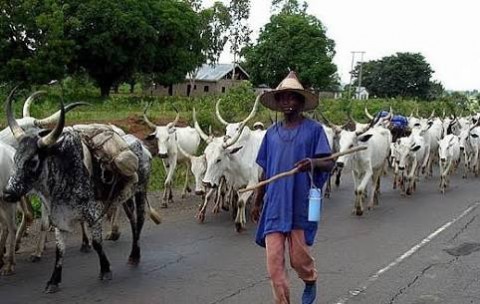 From Ignatius Okpara
UMUAHIA. NIGERIA, (AFRICAN EXAMINER) – Tough time now awaits any Fulani herdsman who engages in open cattle grazing, in Abia State, South- East Nigeria, as the State's House of Assembly has finally passed the Anti- grazing bill into law.
According to the lawmakers, the law is aimed at curbing the menace of the Fulani cattle herdsmen in the state.
Titled as ''The Control of Nomadic Cattle Rearing and Prohibition of Grazing Routes/ Reserve Bill, 2016'', the bill sponsored by the member representing Isiala Ngwa North state constituency, Hon. Martins Azubuike, enjoyed unanimous support  of the state legislators.
The bill is equally aimed at "putting in check nomadic cattle rearing and prohibiting grazing routes in Abia State and "for other matters incidental thereto".
It would be recalled that there had been series of clashes between farmers and herdsmen in some Abia communities precipitating destruction of farm lands by cattle.
Speaker of the State House of Assembly, Hon. Chikwendu Kalu, in his remarks, said the anti-grazing law was not only important to the farmers, but also to the entire resident of the State.
He however, applauded his colleagues in the 6th Abia House for their determination and commitment in getting the vital bill passed
Speaking with newsmen shortly after the passage of the bill, the Speaker, urged security agencies to effectively implement the law, which is expected to take effect, once the State Governor gives his assent to it.
Once it is assented to by the state Governor, Okezie Ikpeazu, Abia would join states like Taraba, Benue and Ekiti where anti-grazing law is operational.
Kalu, further explained that the law provides that the entry of trade cattle into Abia shall be by rail or by road haulage and that movement of trade cattle to major towns in the state shall be by truck, trailers/vehicles or pickup van.
"The law also prohibits driving of trade cattle on hoof through any road or environs into the state," he said, adding: "It also states that anybody found with the cattle on hoof through any road or environs in the state shall be guilty of an offence.''
While the law provides that violators upon conviction is liable to a fine of the sum of N200,000 or six months imprisonment or both, it also states "any cattle found on any road in the state shall be impounded by the Appropriate Authority or taken to the nearest ranch as may be provided by the Appropriate Authority in the state".
AFRICAN EXAMINER reports that Abia is the only state in the South- East geo political zone of Nigeria that has taken the bold step in checkmating the excesses of the rampaging Fulani herdsmen in the region.
Short URL: https://www.africanexaminer.com/?p=44357