Howard Webb Retires after 25 Years, Becomes Director of Professional Match Officials
Latest News, News, Sports News
Wednesday, August 6th, 2014
Howard Webb has retired as referee after 25 years to become match officials technical director.
The former policeman confirmed his shock retirement ahead of new Premier League season after accepting new role as first technical director of Professional Game Match Officials Limited on Wednesday.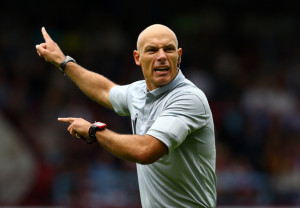 The 43-year-old former policeman, widely regarded as the best English official of his generation, confirmed his shock retirement barely a week before the start of the new Premier League season.
The first man to referee the Champions League and World Cup finals in the same year – in 2010 – accepted a newly-created position within the body which governs elite refereeing in England, PGMOL.
Webb will be responsible for overseeing the technical direction and standards that govern the on-field performance of PGMOL's match officials, will manage its training programme and coaching system, and will work extensively on the successful development programme that provides a pathway for referees through to the elite 'Select Group'.
Additionally Webb will take a public-facing role, informing and educating on refereeing matters, as well as joining PGMOL general manager Mike Riley's management team.
"I am very excited to start this new chapter in my career after a wonderfully rewarding 25 years on the pitch," Webb said.
"I have spent over a decade with the best seat in the house for Barclays Premier League matches, been lucky enough to be involved in nine Uefa and Fifa tournaments, and taken charge of the Uefa Champions League and Fifa World Cup finals.
"Refereeing has given me so much and it's important that match officials who have had the rewards remain in the game to pass on their knowledge. I also have much more to learn about the business of refereeing and the best place for me to do that is with PGMOL. It's an incredibly positive working environment and we all have a common goal of improving refereeing.
"Over the last five years in particular we have made huge strides in terms of our accuracy, fitness and professionalism. The current Select Group are the best referees this country has ever produced and I am thrilled that I not only get the chance to continue working with them but also the opportunity to help develop the next generation of Select Group officials."
Webb began refereeing in 1989 and progressed through the Northern Counties and Football League to become a Select Group referee in 2003.
He refereed more than 500 Barclays Premier League and Football League matches and officiated in every major domestic final.
Webb took part in eight international tournaments, including two World Cups and two European Championships.
In 2011, he was appointed a Member of the Order of the British Empire for services to football.
Short URL: https://www.africanexaminer.com/?p=15767