"It Is A Shame Nigeria Still Imports Handkerchief At 100 Years"
Featured, Latest News
Thursday, January 16th, 2014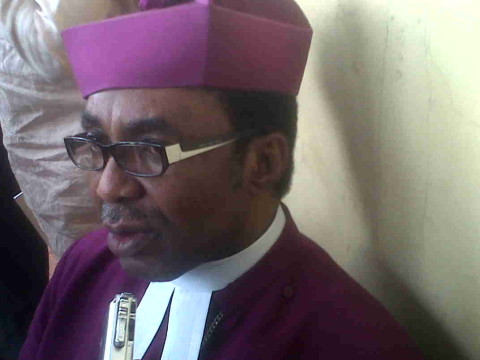 Anglican Bishop of Enugu Dioceses and Chairman Christian Association of Nigeria, CAN, South East Zone, Rt Rev. Dr. Emmanuel Chukwuma has expressed concern over the slow pace of development in Nigeria, regretting that at 100 years, the country is still importing common handkerchief.
The Bishop, who spoke on Wednesday shortly after a church service held at the Good Shepard Cathedral, Enugu to mark his 60th Birthday, saying the ugly development had remained a source of worry to him.
He regretted that Nigeria was yet to produce even a handkerchief at 100 years of age, adding that it was unfortunate that the country, which claimed to be the giant of Africa, is still importing common handkerchief.
According to the Delta state born outspoken cleric, it is quite unfortunate that at 100 years, Nigeria was yet to find a sense of direction as a result of bad leadership.
His words: "It is a shame that Nigeria cannot produce a handkerchief at 100 years. Our leaders need to be sensible. Anybody above 70 years should retire and become a consultant", he declared.
The spiritual leader, who thanked God for his mercies as well as church members for their support which aided his numerous achievements since he was ordained Bishop, assured that he would continue to do his best in winning more souls for to Jesus Christ.
He however, warned the nation's leaders especially those in the corridors of power to be sensitive to the plight of the people, adding that they should also distance themselves from corruption as well as to give the young ones opportunity to serve their father land in order to avert a serious revolution.
Bishop Chukwuma, condemned the recent bombing in Maduiguri that led to the death of many innocent citizens, warning that Nigeria cannot afford another civil war.
He commended President Goodluck Jonathan for signing the Anti-Gay Bill into law, stating that there is nothing like gay in the Bible.
However, he urged government to ensure the implementation of the new law, insisting that Gay practice was evil and dehumanising, and should be condemned by any sane being.
Short URL: https://www.africanexaminer.com/?p=7304