Kwara PDP Members Beat up Party Leaders Over Imposition Of Candidate
Featured, Latest News, Politics
Saturday, September 6th, 2014
Oyewale Oyelola,  Ilorin
The Kwara state executive of Peoples Democratic Party ( PDP ) on Saturday were molested during a protest by members from Ilorin West Local Government  over  the imposition of chairman.
Hundreds PDP members stormed popular hotel in Offa Garage area, Ilorin with their placards to express their displeasure over the swearing-in of Amuda Olugbon as the Chairman of the party in Ilorin west local government.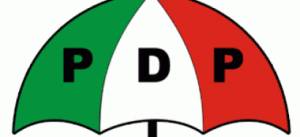 African examiner correspondent gathered that the protesters were supporters of Mr. Toyin Olosasa who was duly elected during the congress.
Protesters who were chanting 'Ole Ole Ole' yoruba word for ''thief'' rough handled party leaders who came for the meeting by removing their caps and headgear as they enter the venue.
Mr. Toyin Olosasa while addressing journalists at a press conference said he was duly elected and returned as the Chairman of PDP in Ilorin West.
He said the state party chairman,  Akogun Iyiola Oladepo erred with the inauguration of 15-member executive committee under the Chairmanship of Olugbon.
"Akogun Oyedepo acted against the law with the inauguration of Amuda Olugbon led executive member committee for Ilorin West Local Government.
"I am the legitimate winner, I was duly elected during the local government congress in April.  I have secured court injunction stopping the inauguration of any other person as Chairman of the party in Ilorin. The kangaroo swear-in was illegal and a rape of juctice". He added
Olosasa vowed that he will reclaim his mandate by using available legal means.
Meanwhile, the state chairman of PDP,  Akogun Iyiola Oyedepo said he inaugurated Ologbon based on directive from national secretariat of the party.
He noted that three executives emerged in three different congresses in which all petitioned the national secretariat.
Oyedepo urged aggrieved members to file appeal to PDP National Working Committee instead causing trouble in Kwara state.
Short URL: https://www.africanexaminer.com/?p=17085