Lagos LG Boss Leads Protest Against Police Harassment
Ayo Balogun, Featured, Lagos, Latest News
Tuesday, October 15th, 2013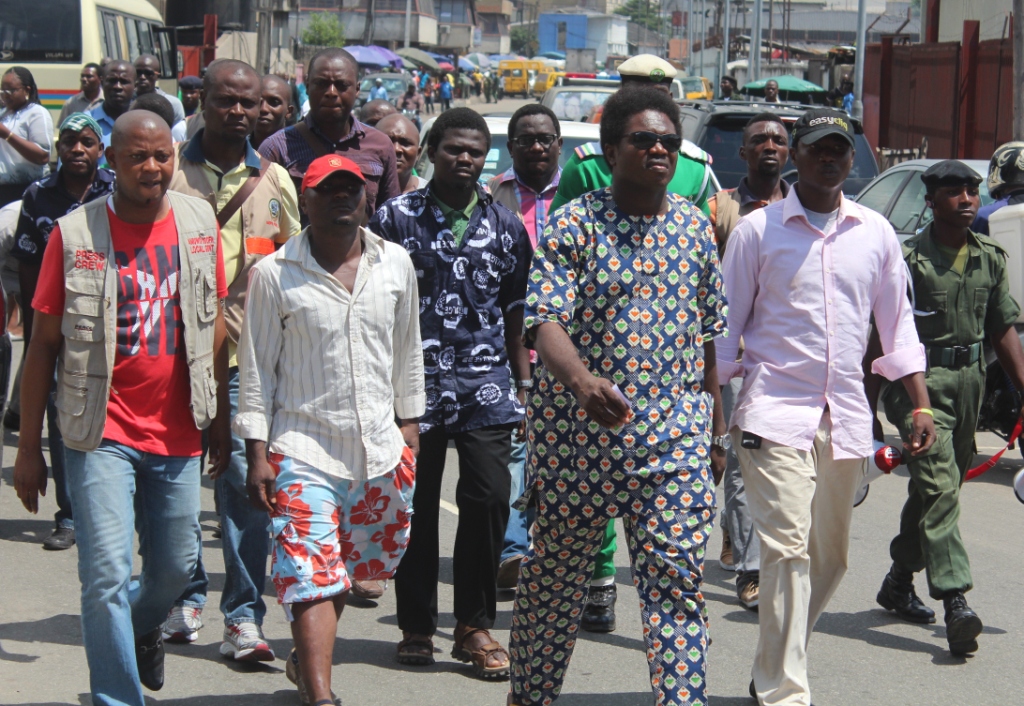 The Executive Chairman, Amuwo Odofin LG, Comrade Ayodele Adewale (2nd R), leading a peaceful protest over the unlawful arrest and detention of Amuwo Odofin LG Council officials at Apapa Magistrate Court, Aerodrome Road, Apapa, Lagos.
Ayo Balogun, Lagos
The Executive Chairman of Amuwo Odofin Local Government Area of Lagos, Nigeria, Comrade Ayodele Adewale on Monday leads a protest against police harassment of council officials.
The protesters carried placards and decried the arrest of some officials of the council by the police, calling for their immediate release of some Man O' War officials of the council arrested and detained at the Kirikiri Prison.
"Some of the placards read: "Wrongful arrest of our staff," "Regular harassment of Council staff by Area Commander, Dan Okoro" and "Amuwo Odofin demand the immediate removal of Area E Commander, Dan Okoro."
Adewale called for the immediate investigation over alleged abuse of office and harassment of council officials by the Assistant Commissioner of Police, ACP, Dan Okoro, who is the the Area Commander of Area E Command Headquarters, Festac Town.
The council chairman, addressing newsmen at the Apapa Magistrate court, where he went to solidarize and effect the bail conditions of council officials that where unjustly arrested and incarcerated by ACP Dan Okoro.
Adewale alleged that the Area Commander had been flaunting the directives of the Lagos State Government as regards traffic law.
In his words, "Dan Okoro should explain to us why we still find containers here and there in Festac Town. He should explain why we still have cases of kidnapping, armed robbery and abandoned vehicles in Festac Town. This is becoming unbecoming of an Area Commander."
The LG boss added that "it is rather unfortunate that Dan Okoro has usurped the power of the DPO, making him irrelevant in the scheme of things. Or how could one explain a situation whereby the duties of the DPO are being hijacked by the Area Commander."
Adewale called on the Inspector General of Police, Commissioner of Police and the Governor of Lagos state, Mr. Babatunde Fashola to open a panel of inquiry in order to unravel the mystery of the abuse of office, kidnapping, armed robbery, several violations and over highhandedness of the Area E Commander, ACP Dan Okoro"
Last Friday, there was pandemonium within the council area following an alleged attack on the Council Chairman, Ayodele Adewale by police officers from Area E Command in Festac Town.
Trouble started after a Container piloted by men of the Area E Command forcefully drove into the Local Government destroying barriers in the process.
According to Adewale, the container drove on one-way into the area and almost hit some residents in the process.
He said the policemen, who were on hand to provide security for the container agreed with him that they had violated the traffic law.
Short URL: https://www.africanexaminer.com/?p=2955