Lagos Rescues 19 Children From Illegal Orphanage
Featured, Latest News
Thursday, April 24th, 2014
Ayo Balogun, Lagos
No fewer than 19 children have been rescued from an illegal orphanage at Alimosho Local Government Area of Lagos, Nigeria.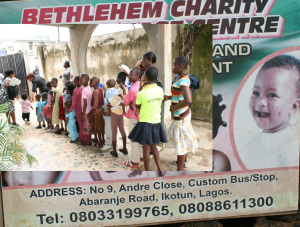 The orphanage, located at Abaranje area of Ikotun has been operating since 2002 without being registered with the Lagos State Government.
Government officials from the Office of Youth and Social Development went with police to the orphanage called Bethlehem Charity and Orphanage Centre owned by Mrs Taiwo Olowoyeye and shut it down, rescuing 19 children.
While government said the orphanage was not registered, Olowoyeye insisted that it was duly registered with the government and that her business line was genuine, but she could not prove that the institution was registered as there were no documents to back it up.
"This orphanage has been in existence since 2002, although we got registered in 2006. I have never given any of the children here for adoption. All I do is take in orphans and bring them up as my own. I give them education. I have been sending reports on our activities here to the state and local government," she stated.
Special Adviser to the Governor on Youth and Social Development, Dr. Enitan Badru stated the owner of the orphanage had no license to operate an orphanage.
"We are the regulators and if she indeed is doing something legitimate, we would not shut her down. Olowoyeye applied in 2002 to the ministry so she could run a charity. She never applied for an orphanage. She was given probational registration to operate a charity home six months and this period of probation expired in 2003. It was only in January 2014 that she finally applied to register her orphanage.
"Olowoyeye was advised by the ministry to bring certain documents for the registration and also given three months to comply with certain conditions for running an orphanage. She ought to have sent in monthly reports about the activities of the orphanage and also inform us how she got the children there.
In these days where people are running baby factories, that trend will not be tolerated in Lagos State. She has a two month old baby in her care and she will have to explain how," he explained.
Badru said government would not allow baby factories to emerge in Lagos and would do all possible to checkmate the activities of illegal orphanages in the state.
Short URL: https://www.africanexaminer.com/?p=10393