Ministerial Screening: Let Amaechi Take a Bow and Go, Rivers APC Tells Senate
Featured, Latest News, News
Monday, October 12th, 2015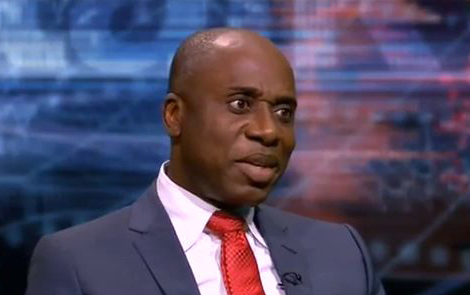 BALTIMORE, MD (AFRICAN EXAMINER) – The Rivers State Chapter of the All Progressives Congress (APC) over the weekend made a strong case for the immediate past governor of the State, Chibuike Amaechi, to be among the few who should be given special consideration by the Senate during the screening of ministerial nominees.
The party in a statement issued on Sunday in Port Harcourt by the State Chairman, Dr. Davies Ibiamu Ikanya, commended the Senate for decision to be thorough in the forthcoming screening exercise but appealed to it not to totally discard the tradition of asking deserving ones to take a bow and go.
"We wish to respectfully appeal to the Distinguished Senate to put Rt. Hon. Amaechi on the list of nominees to be honoured with the 'bow and go' tradition because he is a distinguished former lawmaker and, indeed, the only Nigerian who apart from being the Speaker of a State House of Assembly for eight years from 1999 to 2007, but also meritoriously served as Chairman of the Nigerian Speakers Forum, thereby greatly contributing to the legislative evolution of Nigeria," Rivers APC said.
The party also pointed out Amaechi is one of the few Nigerians who have enjoyed the privilege of being elected Governor of a State for two consecutive terms and is the only Nigerian who has served for two terms as the Chairman of the Nigeria Governors' Forum.
"Based on the above facts coupled with the revolutionary leadership of Amaechi during his eight golden years in Rivers State that stands him as the best Governor that ever governed the State, we appeal to the Senate to ignore the ranting an ramblings of the drowning Governor of Rivers State, Nyesom Wike, whose frustration stems from the fact that Amaechi led the battle that ousted the evil administration of Dr. Goodluck Jonathan.
We equally appeal to ignore the misguided petitions by Senator George Sekibo and his co-travellers  and accord Amaechi his due respect as a great and patriotic Nigerian by allowing him to take a bow and go during the screening exercise," the party said.
"In addition, Amaechi's great sacrifices that helped to bring about the present change in the country are well known and have been widely acknowledged by people from various walks of life.
"We are confident that our great Senators will follow suit by asking this patriotic Nigerian whose love for a strong, virile and united Nigeria is infectious to take a bow and go when he appears before them in the days ahead," Rivers APC said.
Short URL: https://www.africanexaminer.com/?p=26316