Again, Aregbesola, Omisore's Lawyers In Physical Brawl Over Inspection Coverage
Featured, Latest News
Wednesday, September 10th, 2014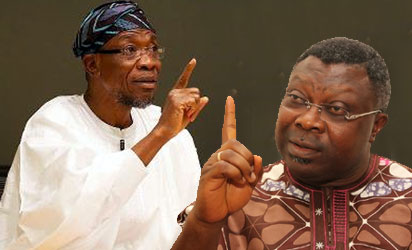 By Funmilayo Omidiji/Oyewale Oyelola
Again, Counsel to the Osun state Governor, Ogbeni Rauf Aregbesola and the ruling PDP candidate in the state August 9, gubernatorial election, Iyiola Omisore Wednesday in Osogbo engaged in a physical combat as both lawyers disagreed on recording of inspection of election materials.
The Chairman of the state Election Petition Tribunal, Justice I. Bako has granted the prayer of the petitioner, Omisore to inspect the recent poll materials  at the Independent National Electoral Commission (INEC) office in Osogbo, the state capital.
Our Correspondent reported that Aregbesola's Counsel, Dawood Akinloye has arranged for video recording of the inspection exercise and when the person engaged to do the coverage began, drew the stiff opposition of Omisore's Lawyer, Kehinde Adesiyan.
Adesiyan consequently stopped the cameraman. This however necessitated Akinloye, after his failed explanation that he was the one that engaged the video man, took over the recording himself, yet was stopped by Adesiyan who insisted that the granted prayer was only to inspection of voting materials, not recording.
When the heated argument persisted, an INEC official offered to do an independent recording with promise to provide copies later to all parties. This was rejected by Aregbesola's counsel who pointed out that he and his client lacked confidence in the electoral body, as he alleged manipulation of the original coverage.
Sequel to the stalemate, both engaged in  verbal abuses and later physical brawl. Our Correspondent reported that Omisore's Counsel, Adesiyan accused his rival colleague, Akinloye, representing incumbent Governor as the first to attack him, while Akinloye countered the claim, saying he (Adesiyan) was the first who launched attack.
It would be recalled the Chairman of the Tribunal was changed last week on the allegation by the PDP of lack of trust against the first panel head. The opposition APC has last weekend called for dissolution of the Tribunal and constitution of another one so as to ensure fair hearing.
Incumbent Aregbesola was declared winner of the August 9 poll, having scored 394,684, the highest votes cast, as against, the petitioner, Omisore's 292,747 votes, making him the first runner's up in the election. The PDP candidate has alleged the exercise was fraught with many malpractices, hence refered to the Tribunal.
Short URL: https://www.africanexaminer.com/?p=17295