Mnangagwa Signs Recently Launched African Fact Book
African News, Featured, Latest News, News Around Africa, South Africa, Southern Africa
Tuesday, January 19th, 2021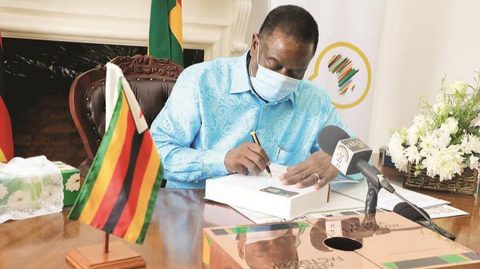 (AFRICAN EXAMINER) – Zimbabwe President Emmerson Mnangagwa has officially signed the Africa Fact Book whose objective is to dispel myths and western perceptions about the African continent, paving way for the document to be circulated among all 54 Heads of State in the continent.
Mnangagwa on Monday morning signed the Fact Book which is published in English, French, Portuguese and Arabic and said it is ready to be distributed to his peers around the continent.
Zimbabwe sponsored production of the book whose first edition was launched late last year pending appending of signature by the President.
Its production is supported by the Office of the President and Cabinet, Research Council of Zimbabwe, line ministries, private sector, regional and international organisations and is published by the Institute of African Knowledge and Zimbabwe Institute of Research.
It was published under the theme: "Bursting the myths" and aims to dispel distortions of the African history and Western perceptions of Africa as a conflict ridden and disease and poverty-stricken continent.
"For too long African history has been dominated by those who once oppressed us. The Africa Fact Book commissioned by the African Union seeks to retell the story of our continent without colonial bias. I was delighted to send a copy to all 54 heads of State." said Mnangagwa on his official @President of Zimbabwe Twitter account, after signing the book at State House.
The Fact Book seeks to act as a regional education tool that enhances knowledge and pride of the African people and will generate knowledge about the continent and highlight Africa's historical achievements, among other things.
The idea was mooted after the African Union Commission, then chaired by chairperson Nkosazana Dhlamini-Zuma about five years ago, was impressed by the Book of African Records that was produced by Zimbabwe and tasked the country to lead the production of the Fact Book as an opportunity for Africa to tell its own story.
Critics have, however, questioned the need for the Fact Book especially if doesn't address corruption challenges in Zimbabwe and other countries.
Short URL: https://www.africanexaminer.com/?p=58961