National Confab and Tinubu's Duplicity
Articles/Opinion, National Conference 2014
Wednesday, October 16th, 2013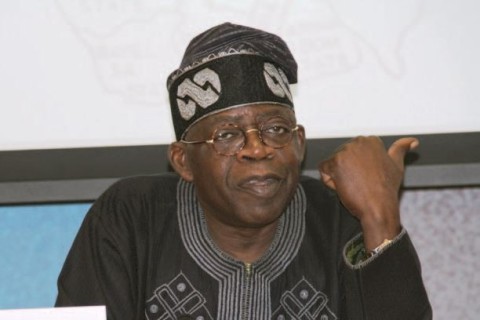 By Francis Ehigiator
Leader of the opposition All Progressives Congress (APC), Alhaji Bola Ahmed Tinubu, recently launched a major attack against the National Conference proposed by President Goodluck Jonathan: he questioned the president's sincerity and capability to organize such a conference.  Tinubu did not stop there; he took liberty-in typical opposition manner-to take elaborate swipes at the president, his party and his policies.  He fraudulently claimed there was no tangible achievement yet in Jonathan's Transformation Agenda, and, therefore, the proposed conference might just be a diversion from the internal wrangling in the PDP or better still, a part of the permutations for the 2015 general elections.
Tinubu is a typical Nigerian opposition politician.  Like his ilk, he finds it difficult to give rivals their due.  Reading through his statement, it was obvious the man who is recuperating after weeks of treatment for an undisclosed ailment abroad, was more interested in scoring cheap political points than addressing the national dialogue question with the seriousness it deserves. Ironically, in trying to question the motive for the dialogue, Tinubu presented to Nigerians views that contradict what he has preached over the years.
For a leader who has, in the distant and recent past, pontificated on the need for such a conference, his statements which underpinned his volte face would for sometime generate comments in and outside the opposition circles.  At a time the president is receiving accolades for acceding to the demand for a national conference, it has suddenly become inconvenient for Tinubu who has been in the forefront of the struggle, to commend the decision.  No doubt, Tinubu's hands are tied by partisan political considerations; and, sadly now, he questions all he spent years yearning for.  His concern whether the president would be sincere enough to allow free and exhaustive discussions at the conference is premature, just as his doubts whether the president would have the guts to implement fully the resolutions that the conference will arrive at.  The question must be asked: why is Tinubu obsessed with such questions and conjectures at this time?
Over the past few years, President Jonathan has demonstrated uncommon courage and commitment in addressing issues of concern to the generality of Nigerians.  He has demonstrated that he thinks through his policies and implements them with passion.  In tackling issues of great concern to Nigerians-like the electoral reform, security and full demilitarization of the Niger Delta-he has proved that his words can be relied upon.  He has been decisive in facing challenges posed by the power sector and has also delivered on his promises to refurbish the rail transport and upgrade existing rail tracks to standard gauge in a determined effort to transform the rail transport sector.
Tinubu's criticisms of two major programmes of the Jonathan administration– the Presidential Amnesty Programme and the SURE-P initiative– are therefore ill-informed.  His claims that the Amnesty has become slush fund for political expeditions while the SURE-P initiative is being implemented fraudulently, is therefore the height of mischief and absurdity.  The presidency, through Doyin Okupe (Senior Special Assistant on Public Affairs) said in response to Tinubu's positions on the Amnesty Programme and the SURE-P thus: "Nothing exposes Tinubu's ignorance in matters relating to national affairs than this unsubstantiated and unsustainable criticism of the otherwise laudable programme which is being well managed and coordinated by the federal government.
"Tinubu's myopia and beclouded diatribe on this matter reveals the narrow mindedness of a local politician totally insensitive to the genuine sensibilities of other sub-nationalities within the polity.  The results of the various programmes of the Amnesty Office are self-evident and have definitely impacted positively on the lives and wellbeing of the youths and communities in the Niger Delta region."
On the Sure-P, the presidency said out of funds totaling N453.8billion between 2012 and 2013, N38.44 billion was used in 2012 and N40.83 billion in 2013 on societal safety nets like maternal and child health, mass transit, community services and graduate internship schemes, adding that in 2012 and 2013, N21.70 billion and N42.27 billion, respectively, was spent on the Niger Delta East-West Road while N85.50 billion and N111.50 billion in the two years under review was spent on the Benin-Ore Road, Kano-Maiduguri dual carriage way, Enugu-Port Harcourt, Abuja-Abaji- Lokoja Roads and Apapa-Oshodi Expressway.
The presidency also said that N33.36 billion and N77.42 billion was spent respectively in 2012 and 2013 on the Lagos-Kano and Port Harcourt-Maiduguri rail system while N1 billion and N1.5 billion in both years was spent on monitoring.
It stated further that in 2012, N180 billion was received by the Federal Government, while the states and local governments received N154.6 billion and N76.4 billion, respectively.  In 2013 (January to May), it disclosed that the federal government received N75 billion and the states and local governments got N64.4 billion and N31.8 billion, respectively.  So, how is the SURE-P initiative fraudulently implemented such that billions of naira have been disappearing into private pockets?
There is no doubt that Tinubu is a pathetic opposition leader trying to offer to his underwhelmed political clan a seemingly critical voice in the vortex of overwhelming decisive actions by Jonathan to provide a platform to Nigerians to jaw-jaw rather than war-war over issues that concern their various ethnic nationalities vis-à-vis the centre within the context of the greater Nigerian nation.  Tinubu's wish for Nigeria under Jonathan is war.  But as it were, that cannot happen, especially now that ethnic nationalities have been invited to discuss the way forward.
At a time that well-meaning Nigerians are submitting memoranda on how best to proceed on the conference to ensure that the outcome meets our general expectations, Tinubu's tirade, therefore, smacks of unnecessary diversion aimed at achieving a partisan political end.  If indeed there were inadequacies with previous experiments at holding a genuine national conference, shouldn't we concentrate on making sure that such inadequacies are addressed in the forthcoming event rather than prophesying doom and concluding prematurely, like he has done?  Unless the illness that had taken him abroad has relapsed too soon, he should at least remember that several positive products came from past experiments in this regard, like agreement on the derivation formula which has addressed development concerns in the Niger Delta.  Not many will therefore agree with him that the proposed dialogue will end up as 'another' futile exercise.
The suggestion that President Jonathan's decision to convoke a national conference was hasty is also surprising; especially against the backdrop of age-long agitations for a conference of ethnic nationalities that will address contemporary and long-standing issues that militate against their wellbeing.  Any leader who does not lay claim to a monopoly of knowledge, will always be open to good suggestions and nationalistic decisions.  So, it is wrong to label Jonathan, who assumed a full mandate just two years ago to rise to the occasion of convoking a national conference, too hasty.
If Tinubu had been charitable enough to refer to the president's 53rd anniversary speech in which he spoke elaborately on the need for a national dialogue, he (Tinubu) would have understood why the recourse to the conference was neither an afterthought nor a ploy to enhance any perceived interest in 2015.  Now to the contradictions: in one breath Tinubu canvassed that the conference be deferred until after the general elections while in another breath he made a case for the conference to take off from 'the spade work' already done during the Obasanjo era.  He suggested that the 118 recommendations in the aspect of constitution review done during the Obasanjo period be reviewed and adopted, excluding the third term provision.
In his convoluted treatise, Tinubu, in making a case for whatever his political interests are, posited that the forthcoming national dialogue must continue "from where we disagreed during the Obasanjo era, since …nation building is a progressive work and …time is not on our side".  How about that for a man who insists that all previous efforts were futile?
The good news, however, is that President Jonathan has refused to toe the line of previous administrations who listed "no-go" areas; and has, by so doing, underscored his sincerity of purpose and resolve to allow Nigerians address squarely issues of concern to their nationhood.  Instead of trying to shoot down the worthy exercise by relating the conference to the internal crisis in the ruling party, the Boko Haram violence and permutations over the forth-coming general elections, Tinubu should drop the garb of his opposition APC, seek ways of representing his ethnic nationality at the conference to fully canvass positions, which will help build our nation.
Ehigiator contributed this piece from Abuja.
Short URL: https://www.africanexaminer.com/?p=3046