NEPC, Embassy of Iran collaborate to Promote Trade
Business News, Latest News
Friday, January 24th, 2014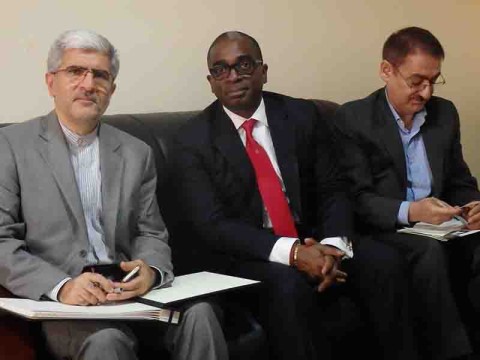 The Nigerian Export Promotion Council (NEPC) and the Iranian Embassy has agreed to collaborate to promote trade between both countries.
This was disclosed by the Executive Director/CEO of NEPC, Mr. Olusegun Awolowo while receiving the Iranian Ambassador to Nigeria HE Saeed Koozechi in his Abuja office on Thursday January 23, 2014.
Mr. Awolowo said the Council will identify areas of mutual cooperation that would assist in promoting locally manufactured products for exports.
He said the Council was planning incentives for prospective foreign investors through a new package from the proposed Reverse Investment Policy. This would encourage Foreign Direct Investment (FDI) in designated Free Trade Zones across the country, being that Iran, for instance, might establish and fully own industries in Nigeria – which would produce what they (visiting country) needs, and export same thereafter.
Mr. Awolowo pointed out that Nigeria would benefit from the experience and successes recorded in the petrol-chemical industry in Iran, as such industries would provide raw materials for Small and Medium Enterprises (SMEs) thus creating jobs along the value chain.
Responding, the Iranian Ambassador HE Koozechi maintained that NEPC was an important organ in the development and promotion of export trade. Adding that despite that Iran is endowed with oil and gas, the country generates about $50 billion annually from non-oil exports.
He said Iran plans to increase its production capacity for petro-chemical from 55 million – 100 million tonnes annually in two years adding that presently there are more than 20 petro-chemical industries operating in Iran. The guest invited NEPC to lead selected exporters to visit Iranian Export Promotion Agency and manufacturing companies to share business experiences.
He also disclosed that Iran generates about $5billion from export of professional services especially in the area of technical and engineering services. He however said there was need to enter into a Memorandum of Understanding (MoU) for mutual cooperation in the area of trade promotion between both countries.
The Ambassador assured NEPC of the Embassy's willingness to facilitate the participation of Iranian companies in trade events organized by Nigeria. Meanwhile, he hinted that the Embassy was planning to host Iranian Solo-Exhibition in Abuja, Lagos and Kano in the nearest future.
NEPC promised to liaise with NACCIMA, NIPC, NEXIM Bank and other relevant Agencies to enhance the proposed Iranian Solo-Exhibition.
Short URL: https://www.africanexaminer.com/?p=7612