Nyanya Blast: Group Berates PDP For Trivialising Blast
Featured, Latest News
Wednesday, April 16th, 2014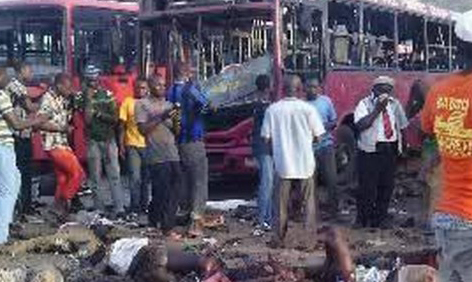 Kayode Adelowokan, Lagos
The Coalition Against Corrupt Leaders (CACOL) has condemned the Peoples Democratic Party (PDP) for accusing the opposition party, All Progressives Party (APC) of culpability in the bomb blast, which killed over 75 people in Nyanya, Abuja, on Monday.
The PDP, through its National Publicity Secretary, Chief Olisa Metuh, immediately after the blast had said that the attack was the handiwork of the opposition desperate to undermine and discredit the present administration and make the nation ungovernable for President Goodluck Jonathan.
Reacting to the statement, Executive Chairman, CACOL, Comrade Debo Adeniran, described the triviality of the tragedy by the political parties, as worrisome.
Adeniran told African Examiner that it is unfortunate that government could be playing games with the lives of innocent Nigerians. "The triviality of this national tragedy is worrisome. It is crass irresponsibility for political parties to pass buck at this time. What they should do is to find immediate solution to this carnage. As a matter of fact, this incident should bring all the political parties together to jointly proffer solution to this wanton waste of lives and properties instead of shifting blame", he added.
In his word, "Our government must note that nobody know the political leaning of those who died in the blast. Basically, every tribe and religion is affected by that blast, hence, the need for all political parties to sheath their swords and come together to find solution to these incessant killings. It is puerile of the PDP and APC to be throwing banters at each other dancing on the graves of those who lost their lives. This is more like making fun of national calamity that should be seen as a collective shame."
The anti-corruption crusader however urged the security agencies to be more proactive than reactive.
"It is disheartening that despite expending huge amount of taxpayers' money into fixing CCTV all over Abuja, the security agencies could not avert this carnage before it occurred. This loss could have been curtailed if the devices are put into good use. It is high time our security personnel became proactive rather than being reactive. It is not enough to commit so much money into solar-powered CCTV when such could not be used to detect evil before it happens. This is the time for the security agencies to be at alert and act fast to nip incident like this in the bud before it becomes emergency."
Short URL: https://www.africanexaminer.com/?p=10122