Okonjo-Iweala, Okogu Goofed –TUC
Featured, Latest News, News
Thursday, January 23rd, 2014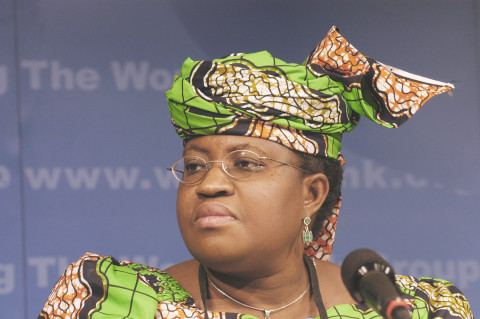 Kayode Adelowokan, Lagos
The Trade Union Congress of Nigeria (TUC) has cautioned the Minister of Finance and Coordinating Minister for the Economy, Dr. Ngozi Okonjo-Iweala, and the Director General of the Budget Office, Dr. Bright Okogu, against feeding the public with false information on the issue of wages of civil servants, lest they incur the wrath of workers.
TUC in a press statement made available African Examiner on Thursday, and signed by President, Comrade Bobboi Bala Kaigama, and the union's Secretary General, Comrade Musa Lawal, refer to reported claims by the duo that the civil service consumes 37 per cent of the recurrent expenditure in the country's annual federal budget.
The body said it is overly speculative on the part of both federal officers. "So also is their assertion that the total number of federal civil servants is about 1,000,000.  Perhaps the Ministry of Finance and the Budget Office should publish the salaries and other emoluments of all civil servants, giving details of what each Ministry, Department and Agency (MDAs) spends as remuneration each month", the statement added.
According to the statement, "For the avoidance of doubt, we wish to let it be known that the total number of federal civil servants is less than 100,000 while the rest of the figure touted by Okonjo-Iweala and Okogu are public servants in the federal higher institutions of learning, the military, the police, the fire service, Customs, Immigration, the Central Bank, the Nigerian National Petroleum Corporation (NNPC), the Economic and Financial Crimes Commission (EFCC) and other agencies of the government.
"As a country struggling to come out of the financial woods, we certainly could do without the goof by the Minister and the Director General.  Their miss-talk does achieve one good thing though: it accentuates the need for the inclusion of representatives of organised labour in all committees, boards and other bodies set up by the government – something that we have repeatedly advocated for.  It is evident that the ministry and the budget office will be prime beneficiaries of such a policy. If nothing else, our representatives in those bodies could counsel them on the distinctions between the civil service and the public service."
Rather than crying wolf where there is none, the Trade Union Congress of Nigeria (TUC) however said Okonjo-Iweala and Okogu should do well to tell Nigerians how the foreign reserves of the country got depleted to the present laughable state.
TUC also challenged the finance minister and DG Budget Office to formulate a panacea to the financial rascality and lack of accountability in government circles as well as the present practice where politicians and their retinue of advisers, special assistants, senior assistants and consultants receive inordinate jumbo pay and allowances at the expense of the poor masses.
Short URL: https://www.africanexaminer.com/?p=7577