Okorocha To Imo PDP: Provide Evidence Of Your N62Bn Allegation
Latest News
Saturday, November 9th, 2013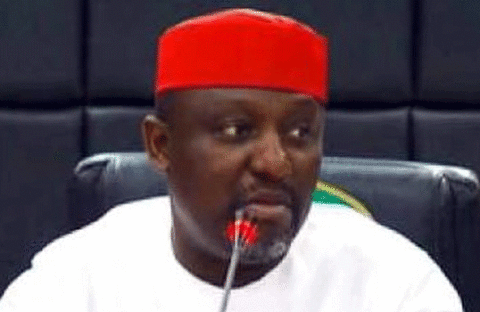 Ignatius Okpara, Enugu
The Imo state government has challenged opposition People's Democratic Party PDP in the state to provide evidence of its claim that the Governor Rochas Okorocha led administration has mortgaged the state to the tune of 62 billion loan.
African Examiner reports that the state chapter of the PDP had for sometimes now, continued to alleged that the state is owing Zenith Bank, a whopping sum of 62 billion incurred by Governor Rochas Okorocha,s government.
In a statement issued Friday, by the Senior Special Assistant SSA, to the Governor on media, Mr. Sam Onwuemeodo, Okorocha regretted that PDP has continued to trade on such lie just to blackmail the APGA led government in the state.
The statement read thus: "Against the backdrop of this allegation that has continued to be repeated by the Imo PDP, I challenge the party to provide the evidence of their claim within 7 days since it is expected that the party must have been sure of its facts before making them public.
Imo, PDP, had during a Press Conference, on Thursday, October 31, 2013, addressed by the state chairman of the party, Chief Eze Duruiheoma, alleged that  the Governor has mortgaged the state to the tune of N62 billion loan from the Zenith Bank.
"The onus now is on the party in the state to back their claim with evidence to be believed or apologize to Imo people for telling them lies. The statement stated.
"it is also possible that the party has been making the allegation following the Governor's load of achievements which the Imo PDP might be wondering where the money for the projects must have come from, and they therefore concluded that it must be loan.
It added," If 7 days is not enough for the party to provide evidence of their claim, the party can also be given 14 days to do so.
"And as the Senior Special Assistant to the Governor on Media, I promise to resign my appointment if the party comes up with evidence of the N62 billion and I will apologize to Imo people over my defence. This is the time to be serious with some of these issues.
"If at the end of the 7 days, the Imo PDP is unable or fails to back their allegation of N62 billion loan with verifiable evidence, then the party has the moral duty to apologize to Imo people for deceiving them, the statement concluded.
Short URL: https://www.africanexaminer.com/?p=4563