Presidency Backs Embattled Pantami, Says Past Extremism Not Enough To Sack Him
African News, Latest News, News, News Across Nigeria, News From The State
Thursday, April 22nd, 2021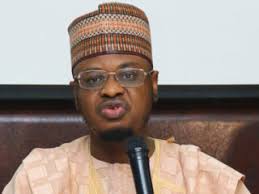 (AFRICAN EXAMINER) – The Presidency has dismissed the ongoing call for the sack of the Minister of Communication and Digital Economy, Dr Isa Pantami, saying the Buhari administration stands behind all Nigerians including the minister against unfair treatment.
Reacting to calls in some quarters for Pantami to resign or be sacked over his past extremist views Malam Garba Shehu, President Buhari's spokesman, in a statement in Abuja on Thursday, described such calls as unfair.
His words: "Today, there is an unfortunate fashion in public discourse that makes leaders in politics, religion, and civil society liable in the present for every statement they have ever made in the past – no matter how long ago, and even after they have later rejected them.
"This insidious phenomenon seeks to cancel the careers of others on the basis of a thing they have said, regardless of when they said it.
"The Minister of Communications and Digital Economy, Dr Isa Ali Pantami is, currently, subject to a "cancel campaign" instigated by those who seek his removal.
"They do not really care what he may or may not have said some 20 years ago: that is merely the instrument they are using to attempt to "cancel" him.
"But they will profit should he be stopped from making decisions that improve the lives of everyday Nigerians.
"The Minister has, rightly, apologized for what he said in the early 2000s.
"The views were absolutely unacceptable then, and would be equally unacceptable today, were he to repeat them.
"But he will not repeat them – for he has publicly and permanently condemned his earlier utterances as wrong."
Earlier the minister had denounced his past extreme comments saying he was young when he made those statements.
"Some of the comments I made some years ago that are generating controversies now were based on my understanding of religious issues at the time, and I have changed several positions taken in the past based on new evidence and maturity.
"I was young when I made some of the comments; I was in university, some of the comments were made when I was a teenager. I started preaching when I was 13, many scholars and individuals did not understand some of international events and therefore took some positions based on their understanding, some have come to change their positions later." He stated.
African Examiner reports that a viral video which was recorded years ago saw the minister engaging the late Boko Haram leader, Mohammed Yusuf, in a public debate. He was also accused to have previously spoken in favor of Taliban and Al-Qaeda.
One of his controversial views is posted in the video below.
Short URL: https://www.africanexaminer.com/?p=62144