Rivers APC Criticizes Wike Over Mass Sack Of Lecturers, Threat To Sack 13,200 Teachers
Featured, Latest News, News From The State
Thursday, June 18th, 2015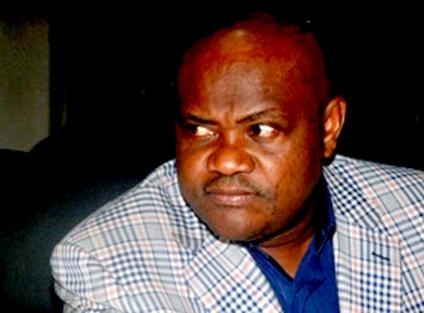 The All Progressives Congress (APC) in Rivers State has descended heavily on the Caretaker Governor of Rivers State, Chief Nyesom Wike, over the sack of 344 Lecturers of the Rivers State Polytechnic recruited in September 2014 by the immediate past administration of Rt. Hon. Chibuike Rotimi Amaechi.
"This is madness taken too far," Rivers APC Chairman, Dr. Davies Ibiamu Ikanya, said Thursday in a statement in Port Harcourt.
He also lamented the order handed down to the Director of the institution, Mr. Obiankor Elechi, to proceed on compulsory leave with immediate effect.
"It is also being reported that the 13,200 teachers employed by Governor Amaechi to ease the suffering of unemployed Rivers youths are programmed to be sacked by next week as part of Wike's 'Operation kill Amaechi's Legacies'.
Just last week, all the Boards and Parasatatals in Rivers State were dissolved in Wike's bid to reconstitute and fill them with his family members and cronies," Ikanya said.
"To demonstrate his disdain for decency and promotion of nepotism, Wike appointed his immediate cousin, Surveyor Okas Wike of Emma Wike & Partners, as a Director in the reconstituted Greater Port Harcourt Development Authority (GPHDA). Also appointed was his direct in-law, the immediate direct younger brother to Dr. Obuzor, his father in-law, Architect Nnamdi Obuzor, to same board of merely eight members," the Rivers APC Chairman added.
Wike, according to Ikanya, boasts that Rivers State has been conquered and that nobody can question him or direct him on how to run the State as none of the bigwigs or elders surrounding him contributed a kobo in his election.
"Wike has been telling anyone who cares to listen that he must recoup all the funds he spent in his bid to become governor.
We wish to remind him that there will be a day of reckoning, even as we demand that he must not treat persons from the riverine and other parts of Rivers State as hewers of wood and drawers of water while lucrative offices are reserved for his family members, relatives and cronies.
"Whatever his grievances may be, he must not vent his anger on innocent lecturers and the poor masses of Rivers State who are not politicians and have not offended him in any way," Ikanya said.
The statement challenged Wike's godfathers to call him to order, asking: "Where is Dr. Peter Odili? Where is Prince Uche Secondus?
Where is Dame Patience Jonathan? Where are the elders of Rivers State who brought this shame on our dear State? Is this the type of governor you people want for Rivers State at this critical period of the 21st Century? What crimes have we committed to warrant this type of callous government whose promotion of infamy, impunity and nepotism is unprecedented?"
Rivers APC noted that "if they fail to call Wike to order and he succeeds to run down our State, they are can rest assured that history will never be favourable to them."
It pointed out that "Amaechi is not the one on trial here but you all that by crook installed Wike as governor," adding: "To dismantle all that Amaechi laboured to achieve for Rivers State these eight years cannot be said to be the best strategy to demonstrate Wike's evil plot against Rivers people for stating that it is unholy to deny the riverine areas their turn to produce the next Governor of Rivers State after the upland has governed the State for a whopping 16 years."
The party pleaded with Rivers people, "particularly those that are being hunted and humiliated, to keep hope alive as it is only a matter of weeks before salvation will come their way as we are fasting and praying that the Election Petition Tribunal comes to our aid as soon as possible to save us from the hands of this man who does not know what governance is all about."
Chief Eze Chukwuemeka Eze,
SSA on Media and Public Affairs to the State Chairman, APC Rivers State
Short URL: https://www.africanexaminer.com/?p=24064