Rivers APC Declares No Court Order Restraining Screening of Amaechi
Latest News, News From The State, Politics, Uncategorized
Thursday, October 15th, 2015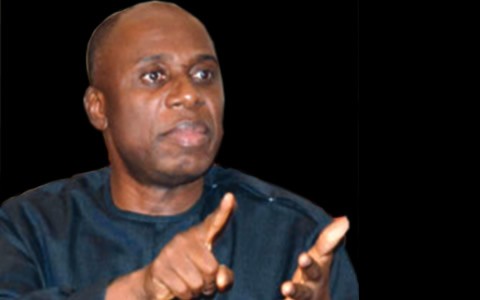 By Niyi Adeyi
The Rivers State chapter of the ruling All Progressives Congress (APC) has faulted a fresh statement being circulated in the media, allegedly by Mr. Livingstone Wechie, purporting that a court order restraining the Senate from Screening the former State Governor, Rt. Rotimi Amaechi, has been obtained.
In a statement issued Thursday by the State's APC Publicity Secretary, Chris Finebone, the party established that following the announcement, members have made frantic search at the Federal High Court across the Country and did not find any such "proceedings pending or order before any Court in the Country" noting that it was only Federal High Court that has jurisdiction to determine any matter in which the Senate was made a party and its duties and functions are the subject matter, in view of Section 251 of the Constitution of the Federal Republic of Nigeria, 1999 (as amended).
Finebone also that stressed because APC members were aware of the desperation of the PDP and Mr. Wechie on the matter in question, still, they have nonetheless carried out a search at the High Court Registry in the State, and no indication that such Order exists at the State's High Court, adding that except if such order was given to the 'whistleblower' himself in the sitting room of a Judge.
APC however reasoned that it was sure that no right thinking judicial officer would do so, especially at this time that the National Judicial Council was desirous of sanitizing the Judiciary.
"Clearly, the State High Court has no powers or jurisdiction under the Constitution to determine a matter in which the subject matter relates to the duties or functions of the Senate. The distinguished and Honourable Judges of the Rivers State High Court are fully aware of this Constitutional provision. We strongly believe that none of them would be drawn into such level of judicial rascality or abuse of office, no matter the inducement or incentive" the party restated.
APC therefore urged all good people of Rivers State to remain calm and await the Senate's report and action as announced by the Senate President, Bukola Saraki today.
In the main time, the State APC has given notice to the Directorate of State Security Services and the Nigerian Police to investigate this level of misinformation, which it stated was capable of breaching the peace.
The State Party Publicist also urged people to be vigilant and watch for any attempt to forge and "criminally alter documentation at the Rivers State High Court Registry".
Short URL: https://www.africanexaminer.com/?p=26445