Senators Propose 5-Year Jail Term For Randy Lecturers
Featured, Latest News
Wednesday, May 4th, 2016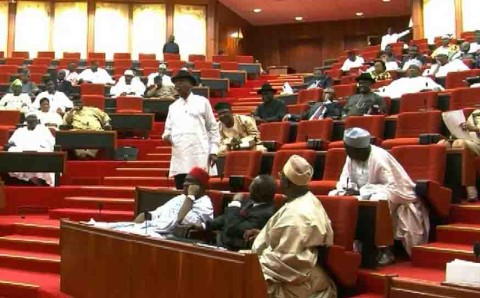 Ayodele Afolabi, Abuja
ABUJA, NIGERIA (AFRICAN EXAMINER) – Male lecturers in tertiary Institutions in the country who are fond of sexually molesting female students would now be in soup as Senators has recommended 5- year jail term without any option of fine for any one found guilty of the offence.
This followed the passage of a bill titled: "Sexual Harassment in Tertiary Institutions Bill 2016", co- sponsored by the Senators, through first reading in the upper legislative chamber on Wednesday.
The bill according to its lead sponsor, Senator Ovie Omo- Agege on behalf of 45 others, seeks for enactment of an Act to Make Provisions for the Prohibition of Sexual Harassment of Students by Educators in Tertiary Educational Institutions in Nigeria and for Matters Connected Therewith, 2016.
The Senator at a media briefing disclosed that the major intention of the bill was to restore morality, discipline and sanity between male educators and female students in higher institutions in the country.
He explained that the bill when passed, would serve as the needed legal framework of domesticating the honour code existing between lecturers and students in tertiary institutions in United States of America into our own penal code here.
He said after careful and detailed research on the menace of sexual harassment of female students by male lecturers in our Universities and other tertiary institutions, the need for such law was imperative , so as to stop the trend of turning the institutions from citadel of knowledge to prostitution centers.
"After careful and detailed research on the menace over the years, our position as proposed in this bill , is that since the female students being negatively influenced by male lecturers into sexual relationship are not capable of giving voluntary consent to that arrangement, there is need for potent law to stop the immorality", he said.
Consequently, an educator as stated in the bill, shall be guilty of committing an offence of sexual harassment against a student if he/she has sexual intercourse with a student who is less than 18 years of age.
Also, it provides if has sexual intercourse with a student or demands for sex from a student or a prospective student as a condition to study in an institution or as a condition to the giving of a passing grade or the granting of honour and scholarships.
Other provisions include: if the suspect grabs, hugs, rubs or strokes or touches or pinches the breasts or hair or lips or hips or buttocks or any other sensual part of the body of a student.
Similarly, if he displays , gives or sends by hand or courier or electronic or any other means naked or sexually explicit pictures or videos or sex related objects to a student or whistle or winks at a student or screams or exclaims or jokes or makes sexually complimentary or in complementary remarks about a student's physique.
The Senators added in the proposed Act that penalty for the Offences listed shall be 5-year jail term for any convicted person.
"Any person who commits any of the acts specified in section 4 of this Act is guilty of an offence and shall , on conviction, be sentenced to imprisonment of up to 5 years but not less than 2 years without any option of fine"
Short URL: https://www.africanexaminer.com/?p=32396