Sex-For-Marks: OAU Sacks Indicted Lecturer, Richard Akindele
Featured, Latest News, News
Wednesday, June 20th, 2018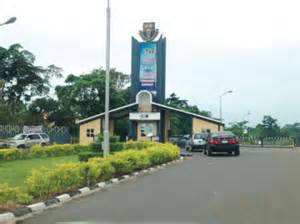 (AFRICAN EXAMINER) – The Governing Council of Obafemi Awolowo University (OAU), Ile-Ife, has dismissed Prof. Richard Akindele who was recently alleged to have been involved in a sex-for-marks scandal with a postgraduate student of the foremost higher institution.
OAU Vice Chancellor VC Prof. Eyitope Ogunbodede announced Akindele's dismissal in a statement issued Wednesday in Ile-Ife.
The victim, Miss Monica Osagie, is a postgraduate student of Business programme. She had after her encounter with the sacked Lecturer, released a recorded telephone conversation between her and Akindele. The recorded audio went viral and trend on social media.
Prof. Akindele in the audio was heard demanding ''five rounds'' of sex to enhance Osagie's marks in a course he (Akindele) taught.
Prof. Ogunbodede disclosed that the University's Senate at its meeting on Thursday, June 14, 2018 considered the committee's finding that Akindele had an inappropriate relationship with his student.
He indicated that it was established through their conversation in the audio recording, his reply to the query, the oral evidence and the printed 'WhatsApp conversations' tendered before the committee.
VC said Prof. Akindele had acted in a manner that compromised his position as a teacher and examiner in that his conversations with Osagie were about examination scores and inducement of favour for the alteration of examination scores.
"He offered to change Miss Osagie's purported "33%" result to a pass mark in consideration for sexual favours; this was established in the audio recording which he admitted.
"His claim that Miss Osagie knew that she had passed with a score of '45' but was seeking to score an 'A' and that this led to him being sexually harassed by Miss Osagie cannot be supported by any evidence.
"Professor Akindele's actions in requesting for sexual favours from Miss Osagie to change her examination scores was scandalous behaviour that has brought ridicule to the name of the university and has tarnished the reputation of the university, as it portrays the university as an institution where its teachers and examiners trade marks for sexual favours.
"From the evidence, Miss Osagie had no idea that she scored '45', a pass mark as later claimed by Prof. Akindele, although she later found out she did not fail the course.
"Prof. Akindele's claim that he reported Miss Osagie's 'harassment' to his colleagues cannot be supported by any evidence as all his colleagues denied it and one mentioned that she only talked about the matter with him after the audio recording was released over the internet.
"Prof. Akindele operated in a position of power and authority over Miss Osagie and as such sexually harassed her.
"Prof. Akindele was liable for all the allegations of misconduct levelled against him'' declared the VC.
The University don said the Senate recommended that Prof. Akindele, having been found liable on all the allegations against him, should be dismissed from the services of the university.
He stated:  "The Council, at its meeting today, (Wednesday, 20th of June, 2018,) having considered the recommendation of Senate, as well as the report of the Joint Committee of Council and Senate, decided that Prof. Richard I. Akindele should be dismissed from the services of the university for gross misconduct.
"The university has also taken further steps to ensure the total elimination of Sexual Harassment (SH) in the OAU community.
"The university has a legal duty to prevent sexual and gender-based harassment within the institution and ensure that both men and women are protected from this menace; and thereby provide conducive environment for teaching and learning''.
The critical resolution Prof. Ogunbodede said was reached in order to create conducive environment for teaching and learning, while the university was creating more awareness and disseminating information on what constitutes sexual harassment within the university.
He added that the veracity of sexual harassment concepts includes sexual solicitation and advances, sex exploitation, prostitution, seduction, pimping, sexual assault, unwanted touching, vulgar sexual jokes and rape among others.
OAU the VC restated was fully committed to the eradication of sexual and other types of harassment from the university and would do all that was possible to nip the menace in the bud.
Short URL: https://www.africanexaminer.com/?p=44570