Suspected IS Militants Destroy Roman Amphitheatre In Syria
Latest News, World News
Friday, January 20th, 2017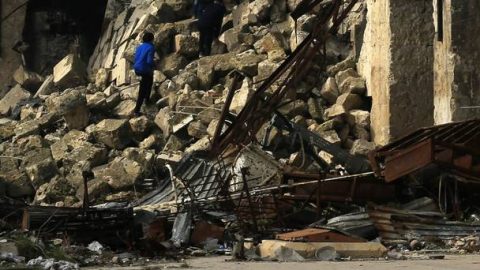 BALTIMORE, MD (AFRICAN EXAMINER) – Syrian officials have confirmed that suspected fighters of the Islamic State (IS) have destroyed part of the Roman amphitheatre in the ancient city of Palmyra.
Media reports confirmed that the facade of the second-century amphitheatre and a group of four pillared gates called a tetrapylon, have been ruined.
The IS fighters recaptured the UNESCO-listed archaeological site in December from government troops. IS had previously held the site for 10 months up to March 2016.
The group is known to have destroyed other monuments before it was forced out by a Russian-backed government offensive.
Meanwhile, the Syrian antiquities chief, Maamoun Abdulkarim, has confirmed the latest destruction, yet, did not say exactly when it occured.
Despite the attack, the two monuments were intact when IS reclaimed the ancient site and the nearby city known locally as Tadmur last month.
It would be recalled that a monitoring group Thursday, said IS militants had beheaded four people and shot eight others dead, outside a museum close to the archaeological site. Similarly, the terrorists have previously carried out killings in the Roman amphitheatre.
Short URL: https://www.africanexaminer.com/?p=37627