Tambuwal Disowns Campaign Posters
Featured, Latest News, Politics
Sunday, August 3rd, 2014
Speaker of the House of Representatives, Hon Aminu Waziri Tambuwal, has distanced himself from the  posters donning various streets of Abuja purported to be promoting his alleged Presidential bid.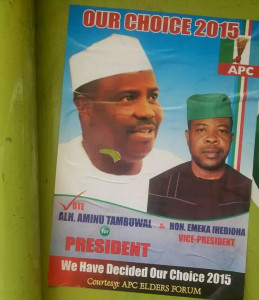 In a statement issued by his Special Adviser on Media and Public Affairs,  Malam Imam Imam, Tambuwal thanked those who placed the posters for considering him fit for elective office, but advised them not to breach the laws of the land.
"While we thank them for deeming the Rt Hon Speaker fit for future elective office in the country, let it be known that since the Independent National Electoral Commission (INEC) has not given the go-ahead for those interested in elective positions to start mobilisation, it is inappropriate for any person or group to print campaign posters and have them placed in strategic locations in any part of the country.
"Laws of the Federation are meant to be obeyed by all persons irrespective of their societal status. As a law abiding citizen, the Honourable Speaker will make known the direction of his political future and intention at the appropriate time," the statement added.
Short URL: https://www.africanexaminer.com/?p=15557