Tinubu May Not Be Acceptable But He Has Better Chances Than Atiku – Buba Galadima
Latest News, News Across Nigeria
Tuesday, February 14th, 2023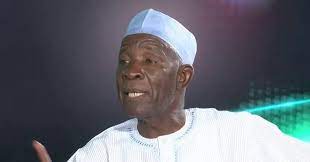 (AFRICAN EXAMINER) – A chieftain of the New Nigeria Peoples Party (NNPP), Buba Galadima, has joined in the conversation concerning the frontline presidential candidates who would win majority votes in the 19 northern states.
Galadima disclosed this during a telephone interview with an online platform, THE WHISTLER that the candidate of the All Progressives Congress and former Lagos State governor, Bola Tinubu, has not been accepted by people in the north because he has not done "anything" for them in the past.
He stated that Tinubu has similar weaknesses as the presidential candidate of the Peoples Democratic Party, Atiku Abubakar, however, Atiku has more problems in the north since he is a northerner who had not assisted his people even though he once occupied the position of vice president of Nigeria.
Galadima added that Kwankwaso, the NNPP presidential candidate would get more votes in the north than any of the presidential aspirants due to his contributions to the region.
He said: "Kwankwaso has the support of 75 to 80% of Northern Nigeria, not Atiku because it is him they have trust in, he's the one that they know performed. Is there anything you can show me that Atiku used to favour the North as Kwankwaso did? Kwankwaso is more experienced in a wider range of things.
"Atiku has compromised the media by giving away money to suppress Kwankwaso, and they keep on asking silly questions like, 'Is it true that you are going to step down for Atiku' all the time, even after he has said one million times that he is not.
"Let him test his popularity; he's the one that is using all manner of tactics, including the press to discourage our supporters. 'Kwankwaso has no money, Kwankwaso is not going to win, Kwankwaso is in a small party, Kwankwaso has not spread himself', who told him that Kwankwaso has not spread? Did you see him in Lagos, or Asaba or Ogoja? All these things you people see, you are blinded, you can't say. "
Speaking on why Tinubu is not acceptable, he said, "It's because he has not done anything for the north despite his being in a position of power for years, despite his money that people talk about. What is it that he has done with his money to favour any Northerner anywhere?
"Do you know that Kwankwaso sponsors people to go to school? Even with his own money? Do you know that he still gives 4 slots in his university to every state of the federation, two female, two male? Or when he sponsored 350 Master's degree applicants from his own pocket? Or when he sponsored 170 PhD students, which included himself, from his pocket. Can your son go to Atiku's university? So why should he even consider him?
"You should know that up until now, Tinubu is not accepted in the North but he has more of a chance than Atiku because he has governors and the truth is that every governor can struggle to bring in 25%, whether it's possible or not but it's a reality."
Short URL: https://www.africanexaminer.com/?p=85281