Tomori: Enemies Behind Rumour Of My Death
Featured, Latest News, News
Friday, September 18th, 2015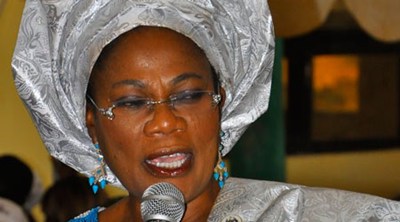 BALTIMORE, MD (AFRICAN EXAMINER) – The Osun State Deputy Governor, Mrs Titilayo Laoye-Tomori says enemies are the one who orchestrated the rumour of his death few days ago.
On Tuesday, rumours of Tomori's death was everywhere on social media. Tomori was at the closing ceremony of the National Women Conference organised by the Committee of Wives of Lagos State Officials (COWLSO) at the Eko Hotels and Towers, Victoria Island in Lagos on Tuesday.
The deputy governor, who represented Governor Rauf Aregbesola at the event was full of praises to God as she narrated her ordeal to thousands of women present at the event.
According to her, the news of her death was just rumour being orchestrated by her enemies.
"You might have heard rumours that I am dead. It is all a rmour. The rumour is being carried out by people from the other side. Thank God, I am alive," she said.
However, Tomori read Aregbesola's speech at the event, in which the governor sought for women to be empowered.
Declaring the conference closed, Aregbesola, made case for women to be empowered, stressing that, "there is no society that shackles more than half of its population that can develop or progress".
He also appealed to government at all levels to invigorate efforts in educating the girl child in the North and women empowerment all over the country.
The Governor said recent studies have shown that women through their various businesses have contributed immensely to the employment rate in the nation.
"In recent years, we have had a reversal of roles on the family front in some cases such that a significant number of women are now the breadwinners. Through empowerment, they have been able to sustain businesses and thereby providing for their families, educating their children and building sustainable homes and businesses", he said.
Speaking, Lagos State Governor, Mr. Akinwunmi Ambode said the state government will consider the possibilities of collaborating with Kebbi State to explore the economic opportunities in the production and distribution of high yield quality rice and other ventures.
He recalled that his Kebbi state counterpart, Alhaji Atiku Bagudu, had during the opening ceremony of the conference on Wednesday, sought the cooperation between women in Kebbi and Lagos States in the production of high quality yield rice, saying that it is one area the state will seek to explore.
"I am sure the leadership of COWLSO has taken note of this and would work towards creating the platform for this cooperation to work and further show the economic relevance of women".
"I am sure the communiqué that has emerged at this conference will encapsulate a blueprint for the economic engagement of our womenfolk, not just in Lagos State but across Nigeria," Governor Ambode said.
He said his administration will be keen to receive the recommendations of the conference and see how they can be implemented to improve the lives of Lagosians.
"This conference marks a new beginning for COWLSO. We will remain partners in progress and also welcome your constructive criticisms to help us improve in our duty to deliver good governance to the people of Lagos State. This administration counts on your usual support and co-operation," he said.
In her closing remarks, Chairman of COWLSO, Mrs. Bolanle Ambode, said the three-day conference discussed series of issues among which was the devastating consequences of divorce on the health and wellbeing of women and children, adding that 80-90 per cent of primary care visits to doctors are due to preventable illnesses, while approximately 95 per cent of them are caused by stress.
She urged all participants to keep the knowledge gained close to their hearts and deploy it appropriately in future, for maximum advantage.
Short URL: https://www.africanexaminer.com/?p=25791