Tunisian Leaders Trade Blame Amid Ongoing Wave of Violence
African News, North Africa
Thursday, January 11th, 2018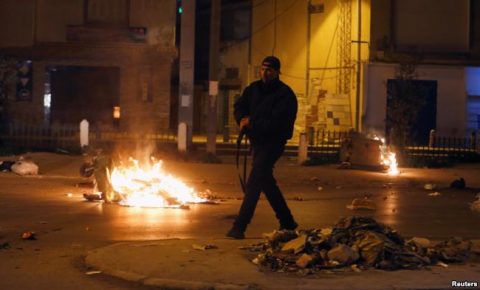 Sporadic protests continued across parts of Tunisia, overnight, as government security forces tried to put a stop to scattered violence that has hit a number of regions.
Tunisian government security forces used teargas to quell violence across the country, amid scattered protests that erupted last week following price increases imposed by the government. The Interior Ministry reported that several hundred people were arrested during the past 24 hours.
Prime Minister Youssef Chahed, visiting a region hit by violence, told journalists "irresponsible politicians" were trying to "stir up trouble," and provoke a "wave of vandalism:"
He says encouraging social unrest, violence and pillage by bringing young people out into the streets, who then get arrested, is not in anyone's interest. He claims it only benefits the corrupt and those who want to weaken the state. He says the government is standing firm, along with the army and security forces in protecting the country.
Some political leaders urged the government to impose martial law to stop the violence.
Spokesman Ziyad Akhdar, of the Popular Front political umbrella group that has been spearheading some of the protests, called the prime minister's remarks "irresponsible," and called for an "independent inquiry" into who is provoking the violence.
One protester told Arab media his main goal is to force the government to reverse its decision to introduce a value-added tax and raise prices on some basic staples./VOA
Short URL: https://www.africanexaminer.com/?p=42255