Ukrainian Comedian, Volodymyr Zelensky Elected President
Latest News, World News
Monday, April 22nd, 2019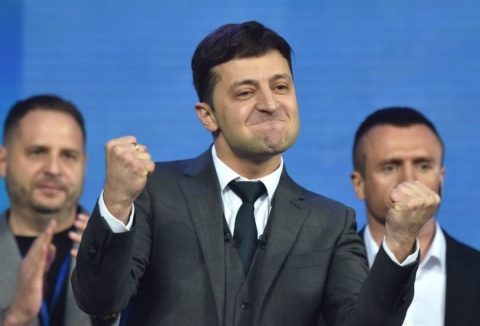 (AFRICAN EXAMINER) – Ukrainian comedian Volodymyr Zelensky has scored a landslide victory in the country's Presidential election.
With almost all ballots being counted in the run-off vote, Mr. Zelensky is in the lead with not less than 73 per cent with incumbent President Petro Poroshenko who is trailing far behind with 24 per cent.
In his early reaction, Mr Zelensky promised his elated supporters that he would never let them down.
Prime Minister, Dmitry Medvedev posted on his Facebook wall Monday he wanted the incoming President to show "sound judgement", "honesty" and "pragmatism" so that relations can improve.
He added that he expected Mr. Zelensky to "repeat familiar ideological formulas" that he used in the election campaign, adding: "I have no illusions on that score.
"At the same time, there is a chance to improve relations with our country."
Mr Poroshenko, who admitted defeat after the first exit polls were published, has vowed he would not quit politics.
He told voters that Mr Zelensky, 41, was too inexperienced to stand up to Russia effectively.
Mr. Zelensky, a political novice, is best known for starring in a satirical television series Servant of the People, in which his character accidentally becomes Ukrainian President.
He plays a teacher who is elected after his expletive-laden rant about corruption goes viral on social media.
He ran under a political party with the same name as his show.
With no previous political experience, Mr Zelensky's campaign focused on his difference to the other candidates rather than on any concrete policy ideas.
Short URL: https://www.africanexaminer.com/?p=48116