US Boosts Anti-Terrorism In Nigeria with $5 Billion Aid
Featured, Latest News, News
Monday, June 15th, 2015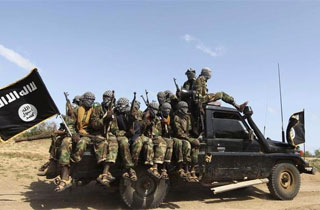 Campaign against the Nigerian dreaded Boko Haram insurgents has received another big boost as the United States (US) Monday announced a contribution of $5 billion to the Multinational Joint Task Force (MNJTF) for its operations against the terrorists.
The US Assistant Secretary, Bureau of African Affairs, Linda Thomas-Greenfield, made the announcement at a news briefing via telephone from the ongoing African Union (AU) Summit in Johannesburg, South Africa.
The US official according to NAN said: "We have been working with Nigeria as well as the African countries innovation to address their concerns about Boko Haram because we don't see this as just a Nigerian problem."
"We are having discussions with President Buhari on how we might bolster our support. We have already been working with them and providing information.
"We are providing some training and support and we'll love to work with the new administration to see how we might increase the level of support to Nigeria. "At the same time, we've just announced at the venue of the AU, a five billion dollar contribution to the Multinational Task Force" Linda was quoted by the agency.
In addition, she stated that the US was providing some equipment and support, as well as having a number of meetings with the countries who were members of the MNJTF to look at other areas that needed support.
Speaking on the insurgents' challenges, Thomas-Greenfield admitted that Africa had faced "some really horrendous terrorist attacks" in the last two years, reeling out the instances such as the West Gate and Garissa University attacks in Kenya and Boko Haram attacks  in Nigeria, especially abduction of over 200 Chibok secondary school girls, in Borno state.
"While I would not say Africa is under siege, Africa has some major security challenges that require a very strong and very concerted strategic effort by African countries and partners to address the security concerns of Africa.
"The United States is providing a strong support to AU on security, as it has a strong partnership with Africa on security. We are working closely with the Lake Chad Basin countries: Nigeria, Chad, Niger and Cameroon to address the issue of Boko Haram." She said America had so far trained some 250,000 African peacekeepers, and expressed its highest commitment to security on the continent" Thomas-Greenfield submitted.
It would be recalled President Muhammadu Buhari last weekend directed the release of $21 million to the MNJTF.
Short URL: https://www.africanexaminer.com/?p=24038