Commercial Sex Workers Worry Over Low Patronage In Delta; Detained Customers
Featured, Latest News, News
Saturday, February 20th, 2016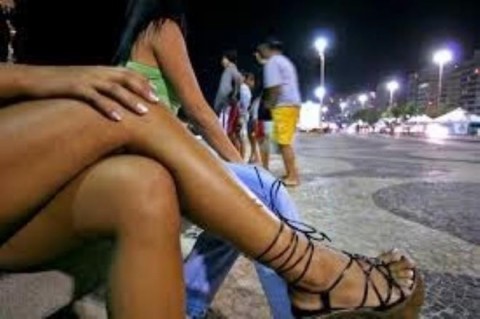 By Ignatius Okpara, Enugu
Commercial sex workers popularly known as (Ashawo) in local parlance operating in Delta state, South-South Nigeria, have expressed worry over low patronage of clients, blaming the situation on fall in oil price which is also affecting Nigeria seriously.
Presently, two married men are being detained for not paying for services rendered to them.
Some of the prostitutes, operating around Summit Road area, in Asaba, the Delta state capital expressed their feelings Friday, when they created a scene at a brothel, where they reportedly detained for hours, three customers and married men for allegedly failing to pay for the service rendered to them
 AFRICAN EXAMINER gathered from a source close to the sex workers, that they the (Ashawos) had told the clients that a round of sex was N3,000 while 'Till Day Break' ranges between N7,000 and N8,000, depending on negotiations.
Trouble however began after the customers pressured the aggressive prostitutes into having sex with them for a down payment of N2,000 for each round, with a promise that they would pay the balance after the action.
The sex workers, were said to have grudgingly accepted the unholy deal after a long-drawn haggling session, warning that their failure to complete the balance would attract serious trouble for them.
It was learnt that after satisfying themselves, the customers refused to pay up the balance as agreed, a development that angered the sex workers, making them to go berserk.
One of them who did not want her name mentioned in print said "We thought the useless men bitter lesson, after detaining them, because they tried to prove to us that they are wiser.
Manager of the brothel, Mr. Chinedu Emeka, while reacting to the drama, said: "The victims confessed that they were married men who wanted fun and were having insufficient funds to pay up their balance.
"Instead of begging our workers, they resorted to a shouting match with them and they were detained in their rooms before a good samaritan came to rescue them by paying for them,"
Meanwhile, the Delta State Police Command, has commenced raiding of brothels in the State.
The State Commissioner of Police, Mr. Alkali Baba Usman, said it was part of the command's strategies to rid the state of criminal elements, who normally operates from brothels.
He noted that people with questionable minds and characters were usually those who patronized the commercial sex workers, disclosing that the "A" Division Police Station in Asaba, had several times raided the brothel which operates as a guest house and had arrested many of the workers.
Please follow and like us:
Short URL: http://www.africanexaminer.com/?p=30358