How PDP Shot Our Supporters In Lagos -APC
Latest News, News, News From The State, Nigeria 2015 Election
Monday, January 26th, 2015
By Ayo Balogun, Lagos – The Lagos All Progressive Congress (APC) has accused the Peoples Democratic Party (PDP) of sponsoring electoral violence in the State by shooting and injuring its members on peaceful campaign.
The party claimed that supporters of the PDP have attacked its faithful in Alimosho and Agege area of Lagos, Nigeria, killing and injuring others.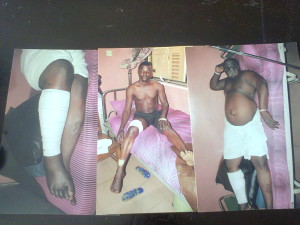 APC, at a press conference said in Agbado Oke Odo Local Council Development Area (LCDA), its men were attacked by the PDP, saying that a number of its members, Tunde Solaja, Nurudeen Olukowi, A. Tobi and Jenrola are lying critically ill in hospitals awaiting surgery to extract pellets and bullets shot at them by some agents of darkness adorned in the garb of political opponents.
APC Publicity Committee, Agbado Oke-Odo LCDA, Mr. Aderemi Adeyemo, Chairman, Publicity Committee, APC, Agbado Oke Odo LCDA there have been some series of calculated peace breaches that were being perpetrated in our communities by terror gangs of the PDP to harass and intimidate members of the APC as well as other innocent citizen in the course of their daily lives.
"These untoward incidents began just about a week ago in various forms like defacing and tearing of campaign posters, destruction and vandalization of banners and billboards of candidates of the APC and other skirmishes, it assumed a more dangerous dimension on the morning of Thursday, 22 January, 2015 when we were about to flag off the LCDA campaigns at our party headquarters located along Ekoro Road in Abule Egba Area of Lagos State.
"As law abiding citizens, on the day preceding the event, we had put the various police formations in our locality on notice that we shall be holding a walk-through in the council area to commence our campaigns and we were assured of adequate protection.
"Unknown to us however, an armed gang had stationed at Old Ota/Ekoro Road Junction close to the base of Busari Ayinde aka Jawe, the PDP House of Representatives Candidate for Alimosho Federal Constituency and began to molest and harass our members, men and women on their way to the APC party secretariat. In the process, eight of our members were physically assaulted, two of whom were hospitalized immediately to prevent mortality resulting from profuse bleeding due to multiple machete cuts," he stated.
Adeyemo said the Divisional Police Officer of Oke-Odo Police Station responded swiftly by leading his team to the scene of the infraction, but that they could not do much to restrain the terror gang who had by then mobilized more of their members and were brazenly brandishing a calibre of weaponry that could hardly be matched by the police.
"To avoid what could have degenerated into a gang war, the APC members quietly evacuated from the scene and went in a different direction to conduct their road tour programme in other parts of the council careful enough to avoid other of their notorious black spots. Strangely on our return later same day, we discovered that the homes of three of our members, Mrs Kenny Ogunsanya, Mrs. Abudu And Mr. Adewuyi popularly known as Sanka who reside in the neighbourhood of the Blue Roof Hotel owned by Jawe had been vandalized by the same band of political thugs.
"In a like manner, two of our supporters returning from our event were stalked to a bar in the Oki area Iyana Ipaja, the two of them were shot in the leg at close range along with two others, a woman and a young girl who were hit by stray bullets. But for the timely intervention of residents of the community who rushed the victims to the hospital, the story would have been a lot worse.
"It is interesting that in a sharp contrast, the same PDP peopled by these characters who could not tolerate us propagating our own party went round town unhindered on the following day, Friday, 23 January, 2015. Characteristically, they bullied everyone on their path, attacked all of our members they encountered and wrecked havocs on the Local Government Head Office at Oja Oba, along Lagos Abeokuta Expressway our party office on Ekoro Road," he said.
According to him, "Our experience is not an isolated occurrence. At about the same time, the gang descended on our people here in Agbado/Oke-Odo, and agent of our party, Eyitayo Peter was shot by PDP thugs in Orile-Agege, he was not so lucky, may his soul rest in peace.
"Similarly, the PDP terror squad accompanied by a combined team of soldiers and policemen tagged 'Tactical Squad' unleashed terror in the Ipaja Ayobo LCDA while Ambode Campaign Team on House to House Campaign in Mosan Okunola area was given the same treatment."
Please follow and like us:
Short URL: http://www.africanexaminer.com/?p=21941